Europe leaders warn of difficult 2012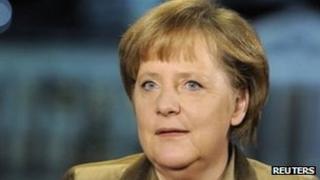 European leaders have warned of a difficult year ahead, as many economists predict recession in 2012.
German Chancellor Angela Merkel said Europe was experiencing its "most severe test in decades" but that Europe was growing closer in the debt crisis.
France's President Sarkozy said the crisis was not finished, while Italy's president called for more sacrifices.
Growth in Europe has stalled as the debt crisis has forced governments to slash spending.
The leaders' new year messages came as leading economists polled by the BBC said they expected a return to recession in Europe in the first half of 2012.
The cost of borrowing for some of the eurozone's largest economies, including Italy and Spain, has shot up in recent months as lenders fear governments will not be able to pay back money they have already borrowed.
With growth stalled, the pressure is on governments across Europe, not just ones using the single currency, to cut spending in order to meet debt obligations.
Fears are now focusing on a potential second credit crunch, triggered by the exposure of banks across Europe to Italy's huge debt.
Euro defended
In her TV address, Chancellor Merkel said that despite Germany's relatively good economic situation, "next year will no doubt be more difficult than 2011".
"The road to overcome it [debt crisis] remains long and not without setbacks, but at the end of this path Europe will re-emerge stronger from the crisis than it was when it entered it."
She defended the euro, saying it had made "everyday life easier and our economy stronger... and protected from something worse" in the financial crisis of 2008.
Heading into an election year trailing his Socialist rival Francois Hollande in the polls, French President Nicolas Sarkozy said structural changes to the economy were needed in order to return to growth.
"I know that the lives of many of you, already tested by two difficult years, have been put to the test once more," he said in a televised address.
"You are ending the year more worried about yourselves and your children," he said.
But after having already pushed budget cuts in order to forestall a downgrade of France's treasured AAA sovereign credit rating, he promised there would be no more budget cuts.
"What was to be done was done by the government," he said.
Mr Sarkozy is due to meet Mrs Merkel in early January to push forward a European Union agreement in December for a new fiscal compact.
'Unavoidable' sacrifices
The president of Italy, the eurozone's third-largest economy, urged people to make sacrifices to prevent the "financial collapse of Italy".
President Giorgio Napolitano said: "Sacrifices are necessary to ensure the future of young people, it's our objective and a commitment we cannot avoid."
Fears that Italy might need a Greek-style bailout that Europe would have difficulty dealing with have forced the government's borrowing costs up and led to the replacement of Silvio Berlusconi by Mario Monti, leading a cabinet of unelected experts.
"No-one, no social group, can today avoid the commitment to contribute to the clean-up of public finances in order to prevent the financial collapse of Italy," President Napolitano said.
"The sacrifices will not be in vain, especially if the economy begins to grow again."
Greek Prime Minister Lucas Papademos, another technocrat who was appointed to lead an interim coalition government after the debt crisis forced George Papandreou to resign, also warned of a difficult year ahead.
"We have to continue our efforts with determination, so that the sacrifices we have made up to now won't be in vain," he said in a televised address.
His government has imposed harsh austerity measures in order to ensure Greece continues to receive an international bailout.
The austerity measures, begun in 2010 by the previous government, have led to mass protests and riots as high unemployment, raised taxes, salary cuts and reduced government services take their toll.