Turkey regrets Kurdish civilian deaths in air raid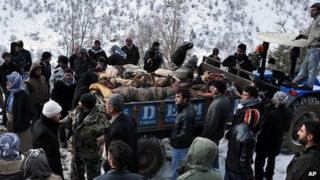 Turkey has expressed regret over the deaths of 35 civilians in a Turkish air strike near the border with Iraq.
Prime Minister Recep Tayyip Erdogan said Wednesday's attack near a Kurdish village, in which young smugglers died, was "unfortunate and saddening".
President Abdullah Gul also expressed condolences and spoke of Turkey's "pain" over the incident.
Turkey's military said earlier it had targeted suspected Kurdish militants. An official investigation is under way.
A Kurdish rebel commander, Bahoz Erdal of the Kurdistan Workers' Party (PKK), called on Kurds to "react after this massacre and hold the perpetrators to account through their uprising".
The attack by F-16 jets on Wednesday night took place near the town of Uludere, in Sirnak province in south-eastern Turkey.
Mr Erdogan said it had been established after the raid that the victims were smugglers, not rebels.
The pro-Kurdish Peace and Democracy Party condemned the air strike as a "massacre", saying that all the victims were civilians aged between 16 and 20.
The victims were buried at a cemetery in Gulyazi village.
Mourners accompanied the coffins in a long convoy from nearby Uludere, some shouting "Erdogan is a murderer!" and flashing V for victory signs, AFP news agency reported.
Condolences from military
On Friday the website of the Turkish General Staff carried a message of condolence for the families of the 35 victims - a gesture described by correspondents as highly unusual.
Earlier, the general staff had said the area attacked was inside northern Iraq and had no civilian population. It added that the raid was launched following information that suspected militants were planning to attack Turkish security bases.
Fighting has escalated between Turkish forces and PKK rebels in recent months.
Since 1984 the PKK, designated a terrorist organisation by Turkey, the EU and the US, has been waging an insurgency against the Turkish state, in which more than 40,000 people have died.
In October Turkey launched a major air and land offensive against the rebels near the Iraqi border after 24 of its troops were killed in a night ambush by rebels.
Supporters of the main pro-Kurdish Peace and Democracy Party (BDP) demonstrated on Thursday over the botched air strike, and some clashed with Turkish police.
There were also violent protests in the mainly Kurdish towns of Diyarbakir and Sirnak.
Kurds demand answers
"They openly massacred us. Why was this blood spilled? They must answer this question," said Kitan Encu, who lost 11 family members in the raid.
Quoted by AFP, she said all the victims were "burned completely" and "the oldest one was 20 years old, they were all students".
Mr Erdogan said "images transmitted by drones showed a group of 40 people in the area, it was impossible to say who they were".
"Afterwards it was determined they were smugglers transporting cigarettes and fuel on mules."
Lashing out at some Turkish press coverage of the blunder he said "no state deliberately bombs its own people".