Ukraine's Tymoshenko sent to jail in Kharkiv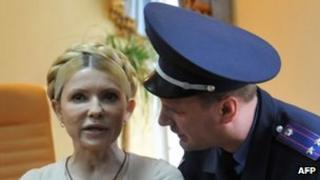 Ukraine's former Prime Minister Yulia Tymoshenko has been moved from the capital Kiev to a prison in the eastern city of Kharkiv.
Ms Tymoshenko, 50, was sentenced to seven years in jail in October, convicted of abuse of power when she signed a gas deal with Russia in 2009.
She is a fierce critic of President Viktor Yanukovych, famous for her role in the 2004 Orange Revolution.
The EU has criticised the authorities' handling of her case.
Since August she had been held in a detention centre in Kiev.
Ms Tymoshenko denies wrongdoing but earlier this month she lost an appeal against the verdict. She says her trial was politically motivated.
The Ukrainian authorities have since launched a new investigation into alleged embezzlement by her - a claim she strongly denies.