Spain royal family reveals finances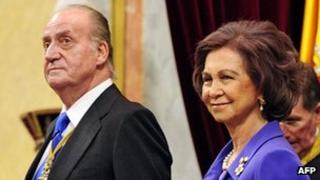 Spain's royal family have published their finances for the first time.
King Juan Carlos is paid 292,752 euros (£243,560) annually by the state, the royal accounts reveal.
The king pays 40% tax on his income. He gets 140,519 euros as salary and the rest is for expenses.
Crown Prince Felipe gets 146,376 euros. Queen Sofia and the three princesses get 375,000 euros between them. The total budget for the royal family was 8.4m euros in 2011.
The Spanish royal household has a staff of about 500, and just over 4m euros out of the 8.4m total was spent on them.
The Spanish news website ABC said the family did not disclose how much was spent on clothes, hair styling or other personal items.
The release of royal budget figures on Wednesday was in the spirit of transparency and modern times, the palace said.