Singer Sinead O'Connor ends marriage after 16 days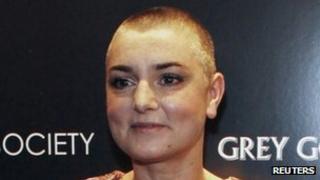 Irish singer Sinead O'Connor has announced the end of her marriage to therapist Barry Herridge.
Writing on her blog, O'Connor blamed the end of her fourth marriage after only 16 days on disapproval from Mr Herridge's family and friends.
O'Connor admitted that they had "made a mistake rushing into getting married".
They were parting company "amicably", she said, calling Mr Herridge a "wonderful man".
She urged the media to respect his and his family's privacy.
The pair met earlier this year when Mr Herridge, 38, responded to an internet appeal O'Connor posted.
She said that within three hours of the ceremony, the marriage was "kyboshed by the behaviour of certain people in my husband's life".
She also blamed the split on taking her husband on what she described as "a bit of a wild ride" looking for marijuana on her wedding night, as she does not drink.
"My husband was enormously wounded and very badly effected (sic) by that experience and also by the attitude of those close to him toward our marriage," she wrote.
O'Connor achieved worldwide fame in 1990 with the song Nothing Compares 2 U, written by Prince.
She has often courted controversy for her outspoken political views.
Last year she called for Catholics to boycott Mass until there is a full investigation into the Vatican's role in the issue of child abuse.