Why Germans got tetchy over South Park jibes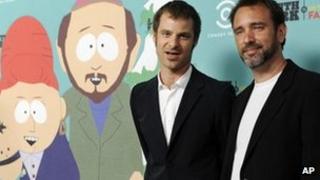 Germans do have a sense of humour.
It needs saying because the country is just about recovering from the broadcast of an episode of the American cartoon series South Park which makes fun of Germans for their alleged absence of any scintilla of a sense of humour.
The episode, Funnybot, features a pistol-toting Chancellor Angela Merkel.
She, plus the German president and men in Tyrolean hats, invade a school and hold the children hostage at gunpoint.
Their righteous anger is because Germans have been called an unfunny people.
To put matters right, they unveil a robot (very well engineered, of course) that tells jokes, some of which are good and some of which are not good.
'Evil genius'
The episode was broadcast in English in the United States earlier in the year and it's just gone out in Germany.
The reviews indicate that many Germans didn't see the funny side.
"South Park pays homage to the ugly German," was one headline.
The reviewer in Die Welt said: "The laughter stuck in my throat."
It's the stereotyping which offends: "The show follows a long tradition of fascination with the German evil genius." The reviewer notes that the only boy in the class who speaks German is a notorious anti-Semite, and the robot does go on a spree of mass murder.
Die Welt's analysis is that the more Germany succeeds, the greater the vitriol against it: "The Germans are back. The economic success, the increasing self-awareness and the new leadership role in Europe, have consequences.
"And the more seriously Germans are taken, the more they become a target for ridicule and scorn."
The mass market Bild is, perhaps surprisingly, much less miffed. It simply describes the plot and asks its readers to vote on whether it's funny or tasteless. "Is this still funny?" it wonders.
What is true is that Germans do have a sense of humour. Some of it is slapstick but some of it is very understated and hard to detect from the outside - as dry as a desert.
And it can involve self-parody - Germans laugh at themselves.
Take Loriot, the comic who died in August. He was a national treasure and genuinely very funny. Just watch his sketch of two Germans in bed in a language lesson for foreigners. It picks up on the German habit of linguistic punctiliousness - it's a slow burn but very funny when you get it.
Much of Loriot's humour involved miscommunication and the absurdity of meetings where formality intrudes - like between strangers on a plane.
Loriot or South Park? Do Americans laugh at themselves as easily?