Ukraine's Tymoshenko loses appeal against jail term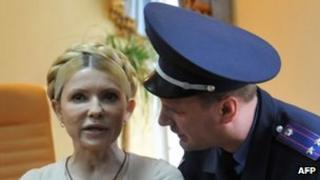 A court in Ukraine has rejected an appeal by former Prime Minister Yulia Tymoshenko, against her conviction and prison sentence for abuse of office.
The appeals court upheld her seven-year jail term for overstepping her authority while negotiating a natural gas contract with Russia in 2009.
The 50-year old, who is an opposition leader, is a fierce rival to President Viktor Yanukovych.
She says her trial was politically motivated.
Ms Tymoshenko and her lawyers boycotted the appeal proceedings, condemning them as a travesty of justice.
"Seeking truth and justice in the Ukrainian courts is completely futile," she said in a statement from prison.
Yulia Tymoshenko's trial and imprisonment have been criticised by the European Union, the United States and Russia.
The Ukrainian authorities have since launched a new investigation into alleged embezzlement by the former prime minister, a claim she strongly denies.