Hungary police detain opposition MPs in chain protest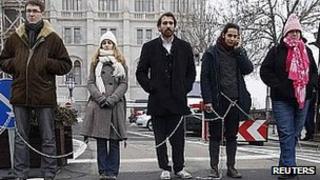 Hungarian police have broken up a demonstration by green liberal opposition MPs who chained themselves together outside parliament.
Twenty-seven activists were detained by Budapest police. Eleven MPs were among them, including former Socialist Prime Minister Ferenc Gyurcsany.
The opposition objects to key laws on elections, taxation and the central bank, set to be adopted by parliament.
They say the laws will tighten the ruling Fidesz party's grip on power.
Prime Minister Viktor Orban's centre-right Fidesz has an unprecedented two-thirds majority in parliament. It used a fast-track procedure leaving little time for debate on the new laws.
The BBC's Nick Thorpe in Budapest says the LMP party (Politics Can Be Different) activists blocked the parliament's car park for two hours, in an attempt to prevent MPs entering, before police removed them. The protest delayed the start of the parliament session.
The head of the Socialist Party, Attila Mesterhazy, was also among those detained.
All the MPs were later released, but some activists were still in custody as night fell.
International concern
"Democracy ends in Hungary today," LMP deputy Benedek Javor told the BBC, before he was taken away by police.
The European Commission, European Central Bank and credit rating agency Standard & Poor's (S&P) have voiced fears that Mr Orban's planned reforms of the Hungarian central bank could undermine its independence.
The parliament approved several government-proposed changes to the central bank bill on Friday to address the criticisms, Reuters reports. It is set to become law next week.
S&P downgraded the country's debt to junk status on Thursday.
Hungary is seeking a new loan from the EU and International Monetary Fund (IMF), but negotiations have soured over the controversial new financial legislation.
The LMP protesters are also angry about Mr Orban's new election law, which they say will give Fidesz an advantage.
"One day before Christmas the governing party passes a host of laws in stealth, each of which individually presents a serious danger to democracy," an LMP spokeswoman told the AFP news agency.
Government hits back
The deputy leader of Fidesz, Lajos Kosa, dismissed Friday's protest as a "parody, without meaningful content", our correspondent reports.
Before the session began, government spokesman Zoltan Kovacs also rejected opposition charges that Fidesz was trampling on democratic principles.
"There was enough time to debate, there was enough time to consider any kind of modifications. It is up to parliament to decide what kind of rules it sets up for itself. The government and the Hungarian legal system has to follow and execute what the Hungarian parliament decides," he said.
In a separate development, the spokeswoman of Hungary's Media Authority, Karola Kiricsi, fiercely criticised international media for what she called "a political attack" on the authority.
She rejected allegations that the authority had closed down the only opposition radio station, Klub Radio, by failing to renew its frequency. The decision had been reached "purely on objective criteria", she said.