Hungary's answer to unemployment: Manual labour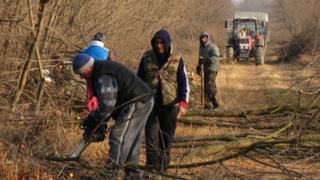 Hundreds of thousands of jobless Hungarians could soon be told to dig ditches and sweep the streets under new government plans to tackle unemployment.
Gyozo Bara and his team start at 7.30 am.
A dozen men wielding chain saws are told to clear a dirt track leading from the village of Rozsaly to the Ukrainian border.
As trees and brambles are pulled back, discarded wood is thrown into large metal trailers dragged by tractors.
This is Hungary's answer to unemployment.
Under a plan backed by parliament, thousands more jobless Hungarians could soon be told to do this kind of manual labour. If they refuse or don't work hard enough, there will be no benefits to fall back on.
Gyozo, 24, was one of the first to be selected for the new public works scheme after years of living on welfare. "The speed of the work here is not very intense so it's better for me and my family," he says.
"But I don't think it's fair to take money away from people who don't work.
"They have made it more difficult for some people, more difficult than it has been so far."
Weak economy
Hungary has one of the lowest rates of employment in Europe with just 55% of the working age population in a job. As an open, export-driven economy, the country is heavily exposed to the eurozone crisis.
Growth has stalled and Hungary's credit rating has been downgraded to junk by two agencies in little more than a month. But the weak economy is only part of the problem.
In some rural towns and villages, whole families are dependent on welfare payments put in place after the fall of communism.
"Some of these people lost their jobs 20 years ago," says Hungary's Communications Minister, Zoltan Kovacs.
"Generations are growing up without seeing their parents go to work in the morning. It's a self-generating process which we have to stop somehow."
Over the next 12 months, the government is planning to pay for more than 200,000 Hungarians to join public works programmes like the one in Rozsaly.
The idea is to create new manual jobs not currently being offered by the private sector. That could mean anything from digging ditches to picking vegetables and sweeping the streets.
Workers will be paid at least $12 (£7.50, 9 euros) a day, more than unemployment benefit but less than the minimum wage in Hungary.
"If you look around the country there is a lot of work that needs to be done," says Zoltan Kovacs.
"For some people, these kinds of public jobs can be a natural way back into the labour market."
The government is paying for the scheme partly by cutting Hungary's sizeable welfare bill. Jobseekers' allowance is being stopped after three months, down from six, and the criteria for other payments are being tightened up.
Anyone who refuses a place on the scheme or doesn't work hard enough will be ineligible for state aid. The idea is popular with voters but some economists are less than impressed.
Martin Kahanec, scientific director at the Central European Labour Studies Institute, describes the plan as a "lemon".
"Very low-skilled public works can stigmatise and discourage these people and stop private employers from hiring them," he says.
"It will create an army of vulnerable workers facing two bad options: no welfare benefits from the state or precarious work."
The Roma question
Groups representing the poor are also worried about the effect on Hungary's large Roma minority.
Government statistics show just a quarter of Roma in some areas are in any kind of regular, paid work.
The government denies it is targeting any one community but does accept the Roma will be "fairly heavily affected" by the decision to expand the public works scheme.
Marton Udvari, a lawyer at the Legal Defence Bureau for National and Ethnic Minorities, thinks the new law increases the risk of corruption and discrimination.
"If you are fired from a public work project you are also excluded from the benefits system," he says.
"The person in charge can be a very serious threat to public workers. Everyone will be afraid to confront him."
He argues that those taking part in the project should be paid the minimum wage, at the very least.
But for the villagers of Rozsaly any work is hard to come by at the moment.
Forty-nine-year-old Adam Sandorne has been unemployed since the local bread factory closed down four years ago.
After a long stretch on benefits, she has now joined the public works scheme and is outside on a cold winter day cleaning the streets.
"Given the choice I would definitely go back to the factory," she says.
"I miss it even now but I am all right doing this for the moment. I realise I must earn my living."