Surge in southern EU workers moving to Germany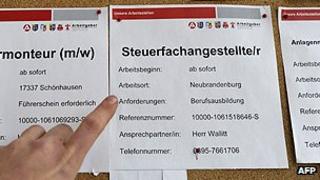 Many more Greeks and Spaniards moved to Germany in the first half of this year than in the same period last year, German official statistics show.
The surge in Greek arrivals was 84% (4,100 more migrants) and the increase from Spain was 49% (2,400 more). Both countries are deeply mired in debt.
In total about 435,000 people moved to Germany - 68,000 more than in the first half of 2010.
Germany's jobless rate is 6.9%. In Greece it is 17.7% and in Spain 21.5%.
Germany also saw a 30% increase in migrants from the 10 former communist countries which joined the EU in 2004 and 2007, the Federal Statistical Office said.
About 300,000 people emigrated from Germany in the first half of 2011.
Free movement of workers is a core principle enshrined in EU treaties. But temporary restrictions are allowed if countries can give evidence of local labour market difficulties.