Khodorkovsky verdict 'was flawed' - Medvedev's council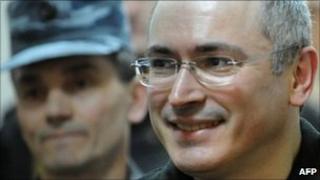 The second conviction of Russia's ex-tycoon Mikhail Khodorkovsky should be overturned, an advisory council to President Dmitry Medvedev has said.
It said that there were "fundamental violations" during Khodorkovsky's second trial which ended last December.
The former head of oil giant Yukos has been in jail since his first conviction of fraud and tax evasion in 2005.
In 2010, Khodorkovsky was found guilty of embezzlement. He says both trials were politically motivated.
His convictions are widely seen abroad as political revenge for defying the Kremlin by backing Russia's opposition politicians.
Non-binding report
On Wednesday, the council on human rights and civil society urged Russia's prosecutor general to annul the second conviction.
In a report, it also said investigators should review the case against the former tycoon, who was once Russia's richest man.
The council's decisions are non-binding.
The Russian authorities have rarely acted on the council's recommendations.
Khodorkovsky is not due for release from prison until 2016.