EU court warns UK and Irish over asylum transfers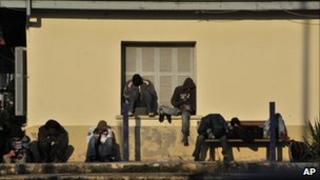 The EU's top court has backed legal challenges by non-EU asylum seekers who have resisted attempts by the UK and Ireland to send them back to Greece.
The European Court of Justice says such transfers must not take place if the British and Irish authorities believe that the applicants' human rights would be jeopardised in Greece.
The transfers are normally allowed under the Dublin II Regulation.
But conditions in crowded Greek holding centres have been widely condemned.
Greece has become the major entry point into the EU for illegal migrants and it has a huge backlog of cases.
In its ruling on Wednesday the ECJ said "an asylum seeker may not be transferred to a member state where he risks being subjected to inhuman treatment".
It was clarifying European law at the request of the Court of Appeal of England and Wales and the Irish High Court, which had raised concerns about the overloading of the Greek asylum system and its effects on asylum seekers.
No 'asylum shopping'
An Afghan, identified only as Mr NS, had challenged a UK decision in July to send him back to Greece.
Similarly, five asylum seekers from Afghanistan, Iran and Algeria had challenged an Irish decision to transfer them to Greece.
The Dublin II Regulation says only one EU country should handle an asylum application. That rule is designed to prevent "asylum shopping" - multiple applications that could boost an asylum seeker's chances of securing residence in the EU.
The regulation says that "where the asylum seeker has irregularly crossed the border into a member state, that member state will be responsible for examining the asylum application".
The ECJ, based in Luxembourg, said EU law did not allow member states to presume that another member state was observing fundamental rights.
It said authorities must avoid worsening an asylum seeker's human rights situation through "unreasonable" delays and "if necessary, it must itself examine the [asylum] application".
The ECJ said UK and Polish opt-outs from parts of the EU Charter of Fundamental Rights were not relevant in this context.
Germany, the UK, Sweden, Norway and Iceland have suspended transfers of asylum seekers to Greece because of the poor conditions faced by many migrants there.
Criticism from Conservatives
The UK Conservatives in the European Parliament voiced dismay at the ECJ ruling.
Their home affairs spokesman, Timothy Kirkhope MEP, urged the European Commission to put pressure on Greece to improve conditions for asylum seekers.
"This ruling was expected but it is still extremely frustrating," he said.
"Western European countries are not trying to return people to some African dictatorship, but to another EU member state where respect for their basic human rights should be a given."
He said the ruling could encourage asylum seekers to enter the EU, "safe in the knowledge that other countries are powerless to return them".