Plane 'jetnapped' from Dutch museum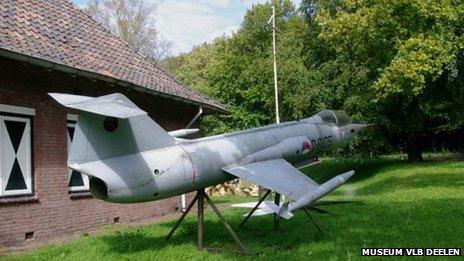 A Dutch museum is appealing for information after a model of a fighter plane disappeared from its garden.
The 1:2 scale model of a F104 Starfighter jet belongs to the Deelen Airbase Museum near Arnhem.
The museum hopes that New Year pranksters rather than metal thieves are to blame. A note left at the scene said: "Fly away. See you next year."
The museum's chairman said he would very much like the Starfighter back - and with a full tank.
Edwin van Brakel told AP that it was a mystery how thieves could have moved the model without being noticed, as it is about 10m (33 feet) long and weighs around 500kg (1,100 pounds).
"It wouldn't fit in the back of a Fiat 500," he said.
The museum says it has received no ransom demands.
Several clubs in the north of the Netherlands have a tradition of stealing an object and taking it to their village to mark New Year's Eve.
Vesuvius, one of the better known, removed a statue of Queen Beatrix riding a bicycle from the town of Rheden last year.
According to Omroep Gelderland, a spokesman for Vesuvius would neither confirm or deny that the model jet was in their village of Elsloo.
"We'll have to wait until 1 January for clarity," Menno Boersma told the broadcaster.
Related Internet Links
The BBC is not responsible for the content of external sites.