Havel mourned by Czech, Slovak press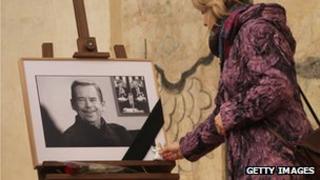 Vaclav Havel's death is on the front of all the main Czech papers. Most carry special editions devoted to the memories of the first Czech president.
The headlines speak of a great loss for the nation, but some commentators also contrast the admiration Mr Havel inspired around the world with the divided opinion of his compatriots.
In Slovakia, commentators reminded readers that as their president, he led the country to democracy.
CZECH PRESS
MILAN UHDE IN HOSPODARSKE NOVINY
Unlike the artists who satisfy themselves with the fact that they have expressed their vision for society, Havel became a man and a politician who personally guaranteed the realisation of his programme. He risked his health and his life for it.
MARTIN M SIMECKA IN RESPEKT
Few people in human history, armed just with a word, brilliant mind and strong character, have been able to defeat seemingly invincible power, with immense apparatus at their disposal which had kept the nation in fear. By mere existence, Vaclav Havel, though already ill and weak, emitted strength which appeared to guarantee that evil was kept at bay.
JINDRICH SIDLO IN HOSPODARSKE NOVINY
We have no idea in what condition the Czech Republic would be, had Vaclav Havel not taken on the responsibility for it and had he instead enjoyed his more natural role of global intellectual star. Havel put this personal bonus in the service of not only his country, but all of post-communist Europe. He it was who, in the eyes of the world, pulled the entire region back into civilised society.
OBITUARY IN MLADA FRONTA DNES
Whereas abroad he was admired and recognised, at home he was often the target of criticism. Especially on account of the wide-ranging amnesty he declared after being elected as president for the first time, or the apology he made to Sudeten Germans for their expulsion. His disagreements with [former Prime Minister and current President] Vaclav Klaus over governing the country after the division of Czechoslovakia were also well-known.
DALIBOR BALSINEK IN LIDOVE NOVINY
He didn't want to continue being the darling of the crowds, and in the end he wasn't that either, because he told the people what they didn't want to hear. His basic starting point was his own sense of conviction and what he felt to be important. People didn't have to agree with him, but they believed what he said. Let's not allow the rest of the world to see better than us what sort of a person he was. Everyone ought to remember and to place him where he belongs. At the peak of history, and not only in our own lifetime.
SLOVAK PRESS
MIROSLAV KUSY IN SME
Vaclav Havel became the symbol of the transformation of our society from a totalitarian to a democratic one. Although this process ended in the break-up of our common state, we only continued work that had already begun. During his retirement from politics, he continued to watch our progress closely and warned us against pitfalls and blind alleys. Thus, he became part of Slovak history. He was also our president. And we haven't had a better one.
DAG DANIS IN HOSPODARSKE NOVINY
Czech and Slovak society is losing not just a revolutionary and a politician. There was always something more about Havel. Havel was primarily an idealist. And idealists - unlike politicians - cannot be replaced. Havel's critical idealism was unique and yet simple. It wasn't based on major doctrines, or precepts. It wasn't based on sentences. It was based on simple words. Truth. Love. Goodness. Honour. These four words were the original and true foundation of November [1989 Velvet Revolution]. Twenty-two years later, nobody convincingly evoked the essence of November. Only tired old Havel. His death has symbolically closed a phase in Czech and Slovak history.
MARTIN BUTORA IN SME
Right until his very last moment he kept pulling together his last strength to make his voice heard everywhere where human freedom and dignity had to be defended and hope was needed. He did so with his inherent sense of duty and responsibility.
PETER JAVUREK IN PRAVDA
Throughout his life he was constantly irritating someone. Like nearly every man who can be truly called a personality and who leaves behind an empty space. He made mistakes. To live in truth doesn't mean living without mistakes. It means accepting mistakes as a part of the truth about oneself. In this sense Vaclav Havel, even as a politician, lived in truth more than the vast majority of those who populated our political life in the post-November [Velvet Revolution] period.
BBC Monitoring selects and translates news from radio, television, press, news agencies and the internet from 150 countries in more than 70 languages. It is based in Caversham, UK, and has several bureaux abroad.