Spain PM Rajoy aims for big deficit cut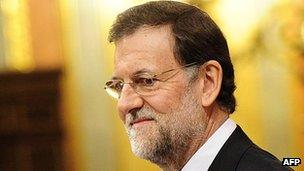 Spain's incoming conservative Prime Minister, Mariano Rajoy, has promised deep public spending cuts while offering tax breaks for companies.
He told the Spanish parliament he aimed to cut the budget deficit by 16.5bn euros (£14bn; $21.6bn) next year.
He said his Popular Party (PP) government would make more companies eligible for low corporate tax rates.
Last month the PP won elections by a wide margin, ousting the Socialist Party amid deep economic gloom.
The unemployment rate is nearly 23% and Mr Rajoy said it would be his government's priority to create jobs.
The 5.4m jobless figure is the highest in the EU and the rate among under-25s is about 46%.
Mr Rajoy's plans mean getting the budget deficit down to 4.4% of GDP next year, in contrast to the 6% target set by the previous Socialist government for this year after 9.2% last year.
There are doubts the target for this year will be met.
The new leader's official swearing-in is due on Wednesday and on Thursday his new government will take office. Detailed spending cuts will be announced in the 2012 budget, due to be submitted by the end of December.
Mr Rajoy promised sweeping reforms of the public sector to reduce costs, including a freeze on public hiring except for the state security apparatus and essential services.
He painted a bleak picture of the Spanish economy, saying: "We are confronting enormous difficulties and must make very demanding efforts."
The global economic crisis of 2008-9 plunged Spain into a severe recession, exposing massive debts and bursting a property bubble which had driven a consumption boom. The many jobs created by the boom suddenly evaporated.