'Evicted in Baku to make way for Eurovision'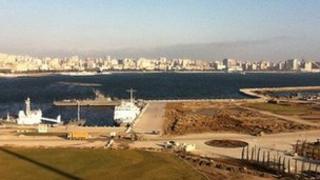 In May Azerbaijan will host the Eurovision Song Contest for the first time. But the excitement among Azeris is not shared by hundreds of people who are being forced out of their homes to make way for a new concert hall in the capital Baku.
Pensioner Natalya Alibekova has owned her home for 11 years.
But she now finds herself living in the middle of an expanse of rubble.
A huge crane towers over her apartment block, the road has disappeared and her apartment block is one of the last buildings still standing in a huge construction site.
Last week a group of people turned up at her door.
They did not show any identification or official documents, but told her she had to be out by New Year's Eve. Otherwise, they said, she will be physically thrown out of her home.
"They said you can't stand up against the government, you have no rights and no house," she said.
"It's horrible. We are all sick with worry and none of us can sleep. The building work means the house is shaking. It's like an earthquake. And the cranes and trucks are operating right through the night so it's impossible to sleep at all."
Despite freezing winter temperatures, the authorities have now cut off the electricity, gas and water.
When Mrs Alibekova asked the utility companies for an explanation, she was told that her house no longer officially existed.
She believes this is all part of a tactic to drive her and her family out, to make way for a new concert hall, intended to host the Eurovision Song Contest.
She lives on the sixth floor with her elderly husband, her daughter and her one-and-a-half-year-old grandson.
"The elevator has stopped working, so now we have to use the stairs. My husband and I are old. We're not able to carry a little child upstairs. Can you imagine living without electricity, gas and water? It's impossible."
Threats
Mrs Alibekova has not yet received any formal offer of compensation and cannot get any response from the authorities.
It is likely she will be offered 1,500 manats ($1,900; £1,230) per square metre (yard), which other homeowners are being given.
But according to Zohrab Ismayil, chairman of the Public Association for Assistance to Free Economy, a transparency and economic rights campaign group, this is less than half the market value for this area in the city centre.
And it is only enough to buy a much smaller flat on the outskirts of Baku.
"At the moment here in Azerbaijan the violation of human rights is a daily occurrence and this is only just one case," he said.
"Baku's city authority has no legal right to forcibly move people and destroy their houses."
He says that some homeowners have been told that if they refuse to leave, the police will find a reason to arrest their teenage children, or that state employees will lose their jobs.
"The government authorities involved here are closed, non-transparent organisations. They do not want to co-operate, and they do not want to talk to people. They just threaten them."
Gleaming city
The spokesperson for Azerbaijan's state committee on property issues, Gulu Ogtay Halilov, was not available for comment.
When contacted by the BBC, numerous representatives of Baku city executive authority, which is in charge of the demolition work, hung up as soon as the issue was mentioned.
Eurovision said the reported demolitions might not be related to the contest itself.
Sixty-five families, or around 300 people, are now left in two blocks of flats in this neighbourhood next to the proposed concert hall.
But these demolitions are just the latest in a wave of forced evictions which have been carried out over the last two years as Azerbaijan's huge oil wealth is used to spruce up the capital.
The centre of Baku has shaken off its dingy Soviet past and been transformed into a gleaming city, with smart designer boutiques and pristine boulevards.
But the human cost, says Human Rights Watch (HRW), is that possibly thousands of homeowners throughout the city centre are seeing their private property rights violated.
According to HRW, in November 2010 police forced eight people out of their homes, some of them still in their pyjamas and slippers, and detained them in custody for nine hours, while the authorities emptied and later bulldozed their apartments.
And in June this year other homeowners were given only a few days notice before heavy machinery started destroying their houses.
In some cases demolition work started with residents still in their homes.
In June, HRW sent a letter to Azeri President Ilham Aliyev and the Baku city executive authority. But so far the authorities have not responded.
Eurovision insists the hall under construction is not being built solely to host the song contest and, while it might be used for the event, the decision to use it has not yet been approved. Other venues are available in the city, it says.
In a statement to the BBC, Eurovision said that on a recent visit to Baku "we observed that the construction of the concert hall [which] media reports refer to is already well under way on a clean construction site and thus there are no demolitions needed".
The Eurovision Song Contest is one of the most-watched television events in the world, with hundreds of millions of viewers tuning in.
The international attention it brings is seen as an opportunity to boost trade and tourism.
So when Azerbaijan won last May, there were parties in the streets.
The government is keen to use Eurovision to boost Azerbaijan's image, which is in a region often overlooked, or even unknown, by the rest of the world.
But that plan may backfire. The media attention is already highlighting alleged human rights abuses.
And for people like Mrs Alibekova and her family, unless the authorities start respecting individual property rights, Eurovision will certainly not be any cause for celebration.