Dozens arrested in Europe over child pornography ring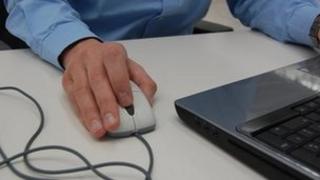 Police in 22 European countries have arrested 112 suspects in an online child pornography investigation, Europe's police agency, Europol, says.
The suspects allegedly shared videos of children and babies being sexually abused and raped, Europol director Rob Wainwright said.
Nineteen men face charges in Denmark, where police seized dozens of computers and thousands of hours of video images.
Denmark's chief of police said it was a huge amount of evidence to examine.
The investigation, named Operation Icarus, was ongoing and more arrests were expected, said Mr Wainwright.
"So far, in 22 countries we have identified 269 suspects with 112 arrests," he said.
"The operation targeted those sharing the most extreme forms of video material, which included babies and toddlers being sexually abused and raped," he told a news conference at Europol's headquarters in The Hague.
He said the evidence seized in house searches was being examined to support further investigations and possible prosecutions.
One of the suspects arrested for downloading illegal material was believed to be grooming a young child, but had not yet met the child face to face, Europol said in a statement.
Danish chief of police Jens Henrik Hoejbjerg said 59 computers and 2,430 storage devices had been seized, containing the equivalent of 9,000 hours of video images, the Associated Press news agency said.
The Danish suspects are aged 24-55, AP added.