US firm buys leading Irish whiskey distillery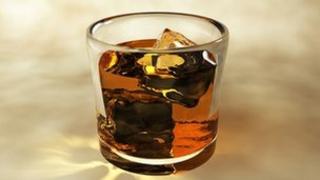 The County Louth distillery which makes some of Ireland's best-known whiskey has been bought by the US-based Beam Inc.
The Cooley distillery owns and produces the Kilbeggan, Connemara, Tyrconnell and Greenore brands.
Its new owner is one of the world's leading premium spirits companies owning brands such as Jim Beam, Maker's Mark and Canadian Club.
Beam has paid $95m (£61m) for the business.
Matt Shattock, the chief executive officer of Beam, said the deal gives them a way to enter one of the industry's highest growth categories.
"We see the opportunity to expand distribution off a relatively small base in key export markets for Irish whiskey across North America and Europe," he said.
The Cooley business was built up by the Teeling family and the firm's founder John Teeling, said the deal would allow the brands " to reach their potential".
The Irish whiskey category grew 11.5% in 2010 to 4.86m cases according to Impact Databank.
The leading markets for Irish whiskey, according to Impact, are the United States, Ireland, the United Kingdom, France, South Africa and Germany.