Commentators pay tribute to Christopher Hitchens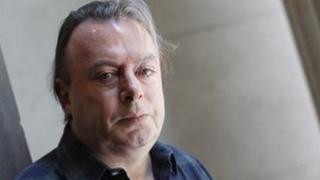 Tributes have poured in for Christopher Hitchens, the British essayist, literary critic and journalist, who has died in the US at the age of 62.
Despite his outspoken views, commentators have praised his fiery wit and his engaging writing, which continued throughout his illness.
"At the end, Hitchens was more engaged, relentless, hilarious, observant, and intelligent than just about everyone else - just as he had been for the last four decades," Juli Weiner says in Vanity Fair, where he was contributing editor.
Writing in the Guardian blog, Roy Greenslade says Hitchens "managed to be both inspirational and infuriating company".
"Inspirational because of his wit and his ability in discussions to adopt a counter-intuitive position and argue it with vigour even when it became obvious he believed the opposite.
"He was infuriating because he always dominated conversations and effortlessly attracted female attention despite appearing not to seek it."
Slate magazine's David Weigel argues Hitchens was the "best kind" of essayist.
"You'd start reading, unsure what position he was going to take. You'd finish knowing just why he took it, and you'd be wondering why you didn't, or spitting with frustration at how wrong he was, how you just knew it, how you could prove it if you, well, you'd need a few minutes to sort this out, first you needed some paper..."
He also points to the prolificacy of Hitchens' work, describing it as the "churn-churn-churn of quality essays".
Several commentators reflect on Hitchens's decision to support the Iraq war, which surprised many, especially on the left.
"In a political shift that shocked many of his friends and readers, he cut his ties to The Nation and became an outspoken advocate of the American-led invasion of Iraq in 2003 and a ferocious critic of what he called 'Islamo-fascism'. Although he denied coining the word, he popularised it," William Grimes in the New York Times writes.
Grimes also recalls Hitchens's strong opinions against religion: "In 2007, when the interviewer Sean Hannity tried to make the case for an all-seeing God, Mr Hitchens dismissed the idea with contempt. 'It would be like living in North Korea,' he said."
The New Statesman mourns the loss of one of the world's "most outstanding and prolific journalists and a wonderful polemicist, orator and bon vivant".
"In his later years, Hitchens was fond of quoting his late mother's assertion that 'the one unforgivable sin is to be boring.' Today, as I realise I will never hear that resonant baritone again, that Hitchens's mighty pen has fallen silent, I feel certain in saying that the world has become a more boring place," George Eaton adds.