Meredith Kercher: Court explains Amanda Knox acquittal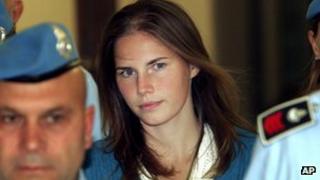 Lack of motive and faulty evidence led to the acquittal of Amanda Knox, an Italian court has said.
Knox, 24, saw her conviction for the murder of UK student Meredith Kercher overturned on appeal in October.
The court said in a 144-page document that forensic evidence used to support the original verdicts was unreliable.
Miss Kercher, 21, from south London, was murdered in 2007 in the house she shared with American student Miss Knox in the Italian city of Perugia.
Also acquitted of the murder on appeal was Miss Knox's former boyfriend, the Italian Raffaele Sollecito.
Case 'gave way'
The court said the forensic evidence could not ultimately prove the couple were at the scene of the crime on the night of the murder.
It pointed to what it said were flaws in collecting forensic evidence and testing DNA traces originally linked to the defendants.
The prosecutors' case could not stand, the court added.
The document said: "The bricks of that building just gave way. It's not just a case of reassembling the bricks... but rather a lack of the necessary material for the construction."
Referring to a motive, it said: "The sudden choice of two young people, good and helpful to others, to commit evil for evil's sake, without any further reason, seems even more incomprehensible (if it is) to support the criminal act of a young man they had no relation to."
In Italy, courts have to publish a document to explain the reasoning for reaching a verdict.
Book deal
Miss Knox was originally sentenced to 26 years in prison and Mr Sollecito to 25 years. The pair have always denied being at the Italian home of Leeds University student Miss Kercher at the time of the murder.
The judge upheld Miss Knox's conviction for slander after she accused bar owner Patrick Diya Lumumba of carrying out the killing.
The sentence for that was set at three years, time that Miss Knox had already served.
Miss Knox has returned to her hometown of Seattle in the US, and is looking to sign a deal to write a book about her experiences.
Rudy Guede, an Ivorian, was found guilty and sentenced to 16 years' jail in a separate trial.
He is now the only person serving time for the murder although prosecutors said he could not have killed Miss Kercher by himself.