Hungary, Czechs wary of EU tax harmonisation plan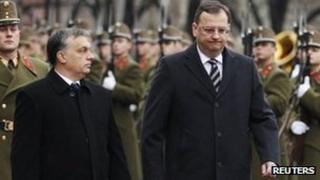 Hungary and the Czech Republic have raised concerns about the EU's plans for closer fiscal union, saying they should apply only to eurozone states.
Hungarian PM Viktor Orban said he did not wish to join any deal that moved towards tax harmonisation.
Britain has refused to sign up to an EU summit deal, but all nine other non-eurozone states say they will let their parliaments decide.
Czech PM Petr Necas said a common tax policy would not be "good for us".
'Warning' to Paris and Berlin
France and Germany have called for eurozone countries to have common corporation and financial transaction taxes, but EU leaders agreed only to work towards a co-ordinated economic policy.
On a visit to Budapest, Mr Necas said it was too early to speculate about the content of the fiscal compact on tougher budget rules that EU leaders hope to sign by March 2012.
However, he insisted that Prague supported an attempt to stabilise the single currency area. Hungary is also backing the tougher rules on debts and deficits.
But Mr Orban made it clear that any co-operation with the eurozone should not harm Hungary's competitiveness.
Our Europe correspondent Chris Morris says the two leaders' remarks appear designed to warn Paris and Berlin that there will be resistance if the two countries try to put references to a financial transaction tax and a common corporate tax into the draft agreement.
Britain vetoed an attempt at last week's EU summit in Brussels to turn tighter fiscal controls into a new EU treaty.
Prime Minister David Cameron said he was concerned the measures would harm Britain's financial services industry in the City of London.
Sweden has also expressed concern about the Brussels proposals but has decided to give its parliament the final say.
The first draft of the new agreement is expected to be circulated at the start of next week to the 26 countries that have indicated they are prepared to take part.
European Council President Herman Van Rompuy announced on Friday that another EU leaders' summit would be called by late January or early February to secure agreement on the text.