French ex-President Jacques Chirac will not appeal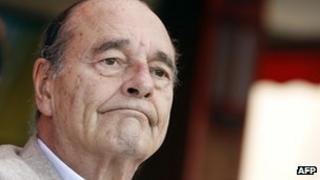 Former President Jacques Chirac says he lacks the strength to appeal against a suspended jail sentence for diverting public funds and abusing public trust.
The 79-year-old, who was absent from court due to ill health, said he "categorically" denied the charges.
President from 1995 to 2007, he was put on trial on charges that dated back to his time as mayor of Paris.
He was accused of paying members of his Rally for the Republic (RPR) party for municipal jobs that did not exist.
Chirac said he believed that, despite the court's judgement, the people of France would make up their own minds that he was "an honest man" who worked only for "the grandeur of France and for peace".
"I no longer have the necessary strength to bring myself before new judges to fight for the truth," he said in a statement through his lawyer, adding: "I categorically contest this judgement."
His lawyer, Jean Veil, said the former leader had received the judgement "with serenity", adding that his client was "satisfied" that at least the court has accepted that he did not personally profit.
The prosecution had urged the judge to acquit Chirac and nine others accused in the trial. Two of the nine were cleared. The other seven were found guilty and all but one handed suspended prison sentences.
Jean de Gaulle, grandson of former President Charles de Gaulle, was handed a three-month suspended term while former union leader Marc Blondel, 73, was convicted but escaped a sentence.
Stain
In 2004, during his presidency, several figures including France's current Foreign Minister Alain Juppe were convicted in connection with the case.
Mr Juppe was given a 14-month suspended sentence.
Jacques Chirac, mayor of Paris from 1977 to 1995, is the first former French head of state to be convicted since Marshal Philippe Petain, the leader of the wartime Vichy regime, was found guilty in 1945 of collaborating with the Nazis.
The BBC's Christian Fraser, in Paris, says the verdict will be seen as a stain on Mr Chirac's character.
The case was divided into two parts: the first count involved embezzlement and breach of trust in relation to 21 bogus jobs; the second related to a charge of illegal conflict of interest concerning seven jobs.
Mr Chirac was found guilty of both and was given a two-year suspended sentence.
The former president, who had legal immunity during his time as head of state, faced a potential 10 years in prison and a fine of 150,000 euros for the employment of more than 20 bogus officials.
"Jacques Chirac has breached the duty of probity required for public officials, to the detriment of the public interest of Parisians," said tribunal judge, Dominique Pauthe.
The former president's doctors say he has irreversible neurological problems which cause memory lapses.