European Parliament in EU transparency move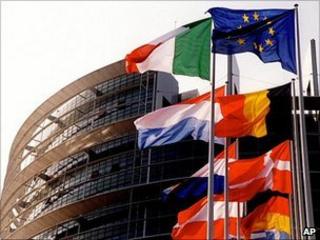 The European Parliament has backed proposals to open up more EU documents to public scrutiny.
The parliament voted to expand the definition of "document" to include any digital data - not only text but also audio and video recordings.
The UK Labour Party MEP steering the legislation, Michael Cashman, said revealing how ministers had voted at EU meetings would improve accountability.
But an EU commissioner said many of the proposed changes were unacceptable.
Maros Sefcovic, EU Commissioner for Inter-Institutional Relations, said agreement was "not within reach" and many of the amendments "cannot be accepted by the Commission".
The parliament's amended version of Regulation 1049/2001 on public access to documents was backed by 394 MEPs, while 197 were against.
It seeks to clarify and limit the exceptions under which information can be shielded from public scrutiny, for example on grounds of security or intellectual property rights.
MEPs said secrecy should only apply when a document's disclosure would undermine the essential interests of the EU or of a member state, notably in security and military matters.
There will be more negotiations on it with the Council - the grouping of EU governments - and the European Commission, the EU's executive.
Ministerial secrets
According to Mr Cashman, "these changes will improve transparency, accountability and democracy within EU institutions and I call on the British government to fully support them".
"If we knew how our ministers voted in their secret meetings, we would be able to hold them to account, not just in Westminster but in all national parliaments across the EU."
He said more transparency would help combat "the apathy and mistrust which a lot of people feel about the EU and its institutions".
The proposed changes would extend to all EU institutions, including the European Court of Justice, the European Central Bank and the European Investment Bank.
EU documents would have to be made more accessible and user-friendly.
As part of the moves towards greater EU transparency, the European Parliament has also agreed on a new code of conduct aimed at thwarting unethical behaviour by MEPs.
There is a continuing debate about the power of lobbyists in EU institutions, whose activities influence EU law.
Food agency criticised
Earlier this month the European Ombudsman, Nikiforos Diamandouros, criticised the European Food Safety Agency (EFSA) over the case of an EFSA head of unit who had moved to a biotechnology company in 2008.
The ombudsman said the EFSA should have done a more thorough assessment of the potential conflict of interest in the case of Suzy Renckens, who had headed the EFSA's Genetically Modified Organisms (GMO) Unit.
A German biotechnology NGO, Testbiotech, had complained to the ombudsman about Ms Renckens's move to Syngenta, which took place less than two months after she had left the EFSA, without a "cooling off" period.
Campaigners for EU transparency say there ought to be proper "cooling off" periods to prevent "revolving doors" - cases where EU officials take up lucrative jobs as private consultants in areas where they have expertise and influential contacts.