Ireland to get 3.9bn euros loan from the IMF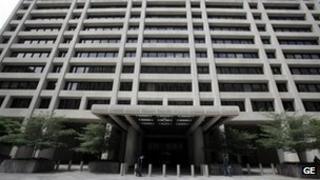 The International Monetary Fund (IMF) has agreed to release a further 3.9bn euros in loans to the Irish Republic.
It follows a review of the country's implementation of the bail-out programme.
The IMF expects to lend the Irish Republic about 23bn euros over three years.
Following the last release of funding in September, the IMF said the Irish government's economic strategy was "ahead of schedule in some areas".
At that stage, it announced that it was releasing almost 1.5bn euros to Ireland as part of the financial aid package for the country.
The IMF said Ireland had maintained "resolute implementation" of its economic restructuring programme aimed at reducing debt.
It said the Irish economy "was showing signs of stabilisation".
European ministers agreed a bail-out deal for Ireland worth about 85bn euros in total last year.
The Irish government had applied for financial help from the European Union after it conceded the banking crisis in the country had become unmanageable.
As part of the package, the Irish government drew up an austerity programme detailing four years of tax rises and spending cuts.