Dutch block ritual slaughter ban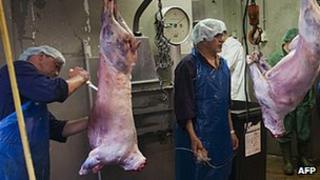 The main parties in the Dutch upper house - the Senate - have indicated that they will reject a proposal to ban the traditional Jewish and Muslim methods of slaughtering animals.
The proposal, already backed by the lower house, will not go through if the Senate rejects it next week.
Religious slaughter without stunning, as practised by Jews and Muslims, is currently permitted in the Netherlands.
But the small Dutch Party for the Animals has been pressing for a ban.
"It's unlikely that it will go through," said Jurjen Bugel, a Senate spokesman.
Dutch Jewish and Muslim leaders welcomed the announcement.
Dutch law currently bans the slaughter of animals without stunning but makes an exception for halal and kosher slaughter, in which a razor-sharp knife is used while the animal is still conscious.
Jews and Muslims insist their slaughter is humane because the animal quickly loses consciousness, bleeding to death.
Out of nearly half a billion animals slaughtered in the Netherlands last year halal slaughter accounted for 250,000 and kosher for 2,500.