Russian aid convoy halted on Serbia-Kosovo crossing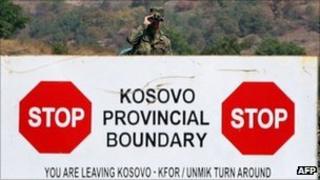 A Russian aid convoy has been halted at a crossing between Serbia and Kosovo, raising tension in the volatile region.
Some 25 Russian trucks were refused entry by the EU's mission in Kosovo (Eulex) at Jarinje on Tuesday.
Eulex said the convoy must accept its escort into the ethnic Serb-dominated north of Kosovo, or come through a different crossing run by Pristina.
Russia, which does not recognise Kosovo's 2008 independence declaration, accused Eulex of blocking the aid.
Aleksandr Konuzin, Russia's ambassador to Serbia who led the convoy, accused Eulex of "political blackmail".
He also refused to re-direct the convoy through the southern Merdare crossing because it was "controlled by the Pristina authorities, which Belgrade and Moscow do not recognise as legitimate bodies".
Eulex and US peacekeepers said they suspected the aid - canned food, blankets, tents and power generators - was not destined for the general Serbian population, but for those manning roadblocks set up by ethnic Serbs in resistance to the government in Pristina.
"I don't know if the Russian aid is a propaganda trick or something else," Pieter Feith, the top Western official overseeing Kosovo's independence, told Serbian reporters.
Northern Kosovo has been the scene of violent clashes since July, after Pristina tried to remove the roadblocks.
Scores of people, including Nato peacekeepers, have been injured during the clashes.
Kosovo - which is about 90% ethnic Albanian - has been recognised by more than 80 countries since the former Serbian province declared its independence.
But Russia - a historic ally of Serbia - has been staunchly supporting Belgrade on the issue.