German bank Wuestenrot embarrassed by Rio sex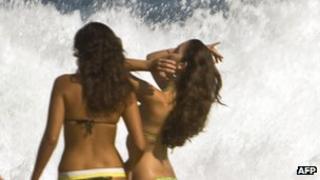 What is it about German companies, you might ask?
First there was the Hamburg insurance company that took its high-performing sales staff to Budapest, where they engaged in a Roman-style orgy at a baths. Prostitutes had arm bands with different colours denoting which grade of manager could use their services.
Now, a venerable mortgage bank, Wuestenrot, is investigating a rewards trip to Rio de Janeiro which ended up in a club called Barbarella. Two staff have been suspended.
According to the German business paper Handelsblatt, there was "heavy partying" and some of the salesmen ended up with prostitutes.
But is German business culture different from that in Britain or America? It certainly seems true that any revelation of trips to reward groups of male employees which ended up in a brothel would be a very serious business issue. There might well be a consumer boycott.
While Wuestenrot - a bank dating back to 1828 - is certainly taking the revelations seriously, reaction by its customers seems unlikely.
The few women who do reach the top in German business often complain that it is a very male culture.
Ines Kolmsee, the chief executive of SKW Stahl-Metallurgie, told the BBC that there was pressure on women to keep out of business.
"We have this expression, 'Rabenmutter', which doesn't even exist in other languages - 'Ravenmother'. It means a bad mother and a woman who works is often considered a 'Rabenmutter' in Germany."
Mrs Kolmsee said she thought this explained why she was such a lone figure in German business. "Even in my engineering studies, I had professors who told me before exams that they thought a woman shouldn't be studying engineering."
Of course, this might explain why business is often a male preserve in Germany. It does not explain why men have to behave badly.
The company said that it expected its employees to act in its best traditions, but it could not monitor their every movement.
There is some mirth in Germany at such a venerable institution getting this kind of publicity. The mass-circulation Bild newspaper says: "Who knows? Perhaps some of the prostitutes now have a Wuestenrot mortgage."