Leonid Kuchma: Gongadze murder case dropped in Ukraine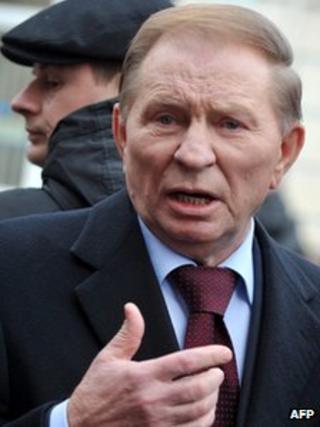 A Ukrainian court has thrown out a charge that former president Leonid Kuchma ordered the killing of journalist Georgy Gongadze in 2000.
Earlier this year a former interior ministry official confessed to strangling Mr Gongadze but accused Mr Kuchma and others of issuing the order.
Secret audio recordings apparently incriminating Mr Kuchma were also considered as evidence.
But Mr Kuchma always denied involvement in the journalist's murder.
Georgy Gongadze, founder of the Ukrainska Pravda website, was a well-known journalist who was critical of the Ukrainian leader and sought to expose state corruption. He was abducted and his decapitated body later found in woodland.
Leonid Kuchma was president from 1994 to 2005 and the subsequent release of tapes, made by a former bodyguard, appeared to record him suggesting that Gongadze be kidnapped by Chechens.
The judge hearing the case at Pechersky district court ruled that the tapes could not be used as evidence as they were obtained through "illegal means".
A lawyer for Gongadze's widow said an appeal would be made against the ruling.