Russia media managers fired 'over anti-Putin pictures'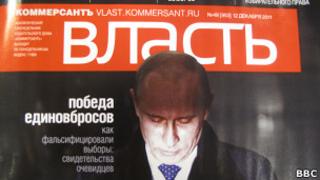 The owner of Russia's top publishing house has dismissed managers over a magazine issue that alleged vote fraud and had obscene words aimed at PM Vladimir Putin.
Tycoon Alisher Usmanov said he acted because of an "ethical breach" by the weekly Kommersant Vlast.
But some media analysts said it was an attempt to stifle criticism of alleged vote fraud in the 4 December elections.
The poll, won by Mr Putin's party, triggered mass protests across Russia.
Mr Putin - who is also widely expected to win presidential elections in March - denies the claims that the election was rigged.
'Clear censorship'
Mr Usmanov, a metals oligarch, said on Tuesday that he had sacked the editor of Kommersant Vlast, Maxim Kovalsky, and the head of the publisher's holding company, Andrei Galiyev.
The tycoon told Russia's Gazeta.ru newspaper that pictures in the latest issue of the magazine "bordered on petty hooliganism", without providing further details.
On the front cover of Kommersant Vlast, Mr Putin is shown staring into a ballot box with the headline: "Victory of United ballot-stuffers" - a word play on the prime minister's United Russia party.
The sub-headline reads: "How the elections were falsified. Evidence and eyewitnesses."
The 12 December issue also had a report on Russian nationals voting in the UK.
The piece contained a photo of a spoiled ballot paper with swear words directed at Mr Putin.
Mr Kovalsky, who had worked in Kommersant for more than 20 years, denied the allegation that he had breached any ethical norms.
"The problem is not so much with the expletives, but who they relate to," he told the BBC Russian.
Later on Tuesday, the head of the Kommersant publishing house, Demyan Kudryavtsev, announced that he had submitted his resignation.
Media activists described the sackings as censorship.
"We are shocked. It's a clear example of censorship from the owner," Nadezhda Azhgihina, executive secretary of the Russian Union of Journalists, told the Associated Press news agency.
The weekly - together with the daily Kommersant newspaper - are among Russia's most respected publications.