Jailed Tymoshenko seen by EU Commissioner Stefan Fuele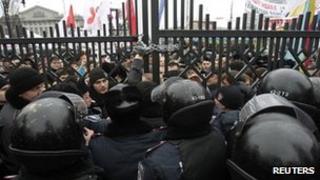 EU Commissioner Stefan Fuele has visited jailed Ukraine opposition leader Yulia Tymoshenko on the day her appeal was due to be heard in court.
Scuffles took place outside Kiev's court of appeal as the case began.
The former prime minister was jailed for seven years in October for abuse of office and Mr Fuele said he had told her of the EU's concern about her case.
In a statement on her website, Tymoshenko's lawyer said she could not attend because of health problems.
As her supporters gathered outside the court, clashes were reported with riot police who tried to stop them entering the building.
Health concerns
Yulia Tymoshenko, 51, has complained of severe back pain. Warnings about her condition by Ukraine's human rights envoy last month led to medical tests in a Kiev hospital.
Her lawyer, Serhiy Vlasenko, said he had met the former PM in the prison's medical wing and urged the appeal court to announce "a break in the case".
The jail sentence related to a gas deal with Russia in 2009, during her term as prime minister. Last week, she was formally re-arrested on a new criminal charge of tax evasion and theft of government funds between 1996 and 2000.
Tymoshenko insists she is innocent.
TV reports on Tuesday said Mr Fuele, the EU's Enlargement Commissioner, had spent half an hour at Lukyanivska prison.
The European Union has condemned her trial as politically motivated and Mr Fuele said he had assured the former prime minister that the 27-member group would continue to follow her appeal closely and "would insist upon the need for her to benefit from all her rights to defend herself in a fair process".
The EU and Ukraine are due to hold a joint summit next week on finalising a deal on political association and the creation of a free trade zone. But the meeting has been overshadowed by Tymoshenko's seven-year jail-term.
Mr Fuele also had talks with Ukraine's President Viktor Yanukovych, which he said were aimed at preparing the ground for the summit.