Traveller blows 50,000 euros on wine at Paris duty free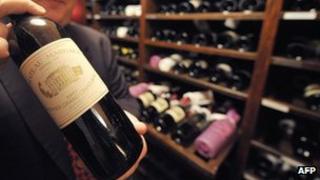 A traveller has made a record purchase at Paris's Charles de Gaulle airport when he spent nearly 50,000 euros (£42,000; $66,000) on six bottles of exclusive wine, the airport says.
The duty-free purchase was made by a shopper "from the far east" on Friday.
It consisted of a bottle of Romanee Conti 1995, a Chateau Margaux 2003, two bottles of Chateau Lafitte 1982 and two bottles of Petrus 1980.
The airport noted high-quality wines "sold better at the end of the year".
Travellers "buy each year in the shops of the two Parisian airports more than a million bottles of wine and nearly 400,000 bottles of champagne", Paris airport operator ADP said in a statement.
The previous record sale was made last year in April when a woman traveller, bound for Abidjan in Ivory Coast, spent nearly 30,000 euros on three bottles of wine, ADP told the BBC.
The last record purchase before that had been in 2007 by a person "from Asia" who spent 23,000 euros.
Such purchases can be the result of impulse buying, or in some cases the result of a customer asking the airport shop to find a bottle of a particular year for a special occasion, ADP says.