Toy frog 'sparks Austria Alps rescue'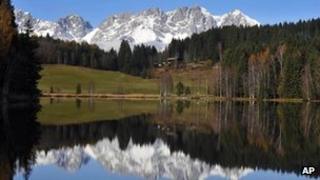 A German couple paid a mountain rescuer 850 euros (£718; $1,120) to search for a lost soft toy, Austrian media report.
The cuddly frog, described as the couple's lucky charm, fell from the summit of the 2,200m (6,500ft) Hintere Goinger Halt in the Austrian Alps.
Reports suggest the toy slipped from the husband's grasp as he posed for a souvenir photograph and stumbled.
The pair appealed to the German Alpine Association for help, and after an eight-hour search, the toy was found.
The couple, in their early 50s and from Bavaria, were said to have spent two days looking for the frog in the Wilden Kaiser area of the Tyrolean Alps in western Austria before seeking outside help.
The man involved in the rescue, Markus Fleischmann, told AFP news agency that the mission had not been dangerous and "it being off-season, I had nothing better to do".
Police in the area were unable to confirm the account, which first appeared in the Austrian newspaper Heute.