Norway PM Stoltenberg at pole for Amundsen centenary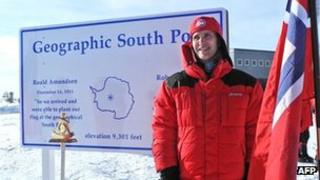 Norwegian PM Jens Stoltenberg is spending several days at the South Pole to celebrate the moment 100 years ago when his countryman Roald Amundsen became the first person to get there.
Mr Stoltenberg, who is only the second head of government to visit the pole, published a picture of himself on Twitter skiing in the vast wilderness.
Mr Amundsen won the famous race to the South Pole, narrowly beating the UK's Captain Scott, who died in the attempt.
The anniversary itself is on Wednesday.
Mr Stoltenberg is due to welcome Norwegian expeditions, some of whom are retracing the route taken by the explorer, attempting to reach the pole to mark the occasion.
On Wednesday, an ice sculpture of Amundsen is scheduled to be unveiled at the US scientific base station Amundsen Scott, which is located near the pole and where Mr Stoltenberg will be staying, the AFP news agency reports.
Some British visitors are also expected to visit Antarctica at around the same time to mark the trip made by the British naval officer Robert Scott, who was beaten by Mr Amundsen in the race to the pole and died while making the return journey.
Mr Scott and his men, who made the trip using ponies rather than dogs, died after being caught in a blizzard.
Prime Minister Helen Clark of New Zealand visited the South Pole in 2007.