Sarkozy: There are now clearly two Europes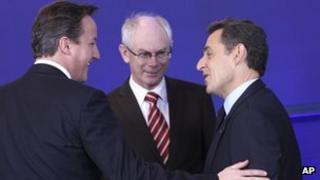 The French president has said that there are now clearly "two Europes", following last week's summit in which the UK vetoed EU treaty changes.
Nicolas Sarkozy said he and Chancellor Merkel of Germany did everything they could to persuade the UK to sign up to the EU deal to tackle the debt crisis.
He told Le Monde the agreement marked "the birth of a different Europe".
UK PM David Cameron defended his decision, telling MPs he acted to protect the UK's financial sector.
"We went seeking a deal at 27 [EU members] and I responded to the German and French proposal for treaty change in good faith, genuinely looking to reach an agreement at the level of the whole of the European Union with the necessary safeguards for Britain. Those safeguards on the single market and on financial services were modest, reasonable and relevant," he told the British parliament.
Mr Cameron said it was possible to be a full, committed and influential member of the EU, but to stay out of arrangements where they do not protect British interests.
In an interview with Le Monde newspaper, Mr Sarkozy said that there is one Europe "which wants more solidarity between its members and regulation, the other [is] attached solely to the logic of the single market".
European leaders agreed in Brussels to plans for deeper economic integration among the countries that use the euro, and in particular to impose sanctions on states that go over an agreed budget deficit limit.
Mr Sarkozy defended his strategy of co-operation and compromise with Mrs Merkel, praising the German Chancellor's "pragmatism and intelligence".
But he said that the importance of this agreement with Germany did not mean that France could not work with Britain. He said David Cameron had been "courageous" over Libya and that Britain and France shared a commitment to nuclear energy and to defence co-operation.
The EU Economics Commissioner, Olli Rehn, said Britain's stance would be bad for the whole of the European Union.
"I regret very much that the United Kingdom was not willing to join the new fiscal compact, as much for the sake of Europe and its crisis response as for the sake of British citizens and their perspectives."
"We want a strong and constructive Britain in Europe, and we want Britain to be at the centre of Europe, and not on the sidelines," he said.
'Renegotiate deal'
Meanwhile, French presidential candidate Francois Hollande has said that he would seek to renegotiate the deal on the euro agreed last week.
Mr Hollande, who is the Socialist Party's challenger to President Nicolas Sarkozy at next year's elections, said the agreement was not the right solution for the European Union.
He said he wanted greater powers for the European Central Bank (ECB) and for member states to issue joint eurobonds.
Germany is opposed to such measures.
Speaking to RTL radio, Mr Hollande said: "This accord is not the right answer, nor does it have the urgency.
"If I am elected president, I will negotiate, renegotiate this deal to include what is missing today."
Members of Mr Hollande's party have accused President Sarkozy of bowing to German pressure on the issues of the ECB's power and eurobonds.
France is holding its presidential election in two rounds of voting on 22 April and 6 May. President Sarkozy has yet to declare his candidacy but is widely expected to stand.
Polling organisations currently predict that Mr Hollande would beat Mr Sarkozy in the second round of voting.