France election: Villepin to stand for president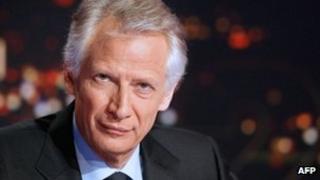 French former prime minister and centre-right politician Dominique de Villepin has announced he will stand for president in the 2012 election.
The long-time rival of incumbent President Nicolas Sarkozy made his announcement on French TV.
Mr Sarkozy himself has not formally declared a bid for re-election but is widely expected to do so.
France's Socialist opposition recently elected Francois Hollande as their candidate for the presidency.
Recent opinion polls suggested Mr de Villepin, 58, would only get 1 or 2% of the vote.
His candidacy will certainly annoy the president because he will take away precious votes in the first round of the election at the end of April, the BBC's Hugh Schofield reports from Paris.
But it is hard to see him as a serious contender as many of his former friends and allies have moved over to President Sarkozy's camp, our correspondent adds.
Furthermore, he has just been named in a corruption enquiry, accused of putting pressure on a businessman not to give information to the police that might implicate one of his friends.
Nadine Morano, the election chief of Mr Sarkozy's governing UMP party, called on Mr de Villepin to abandon his bid and "back Mr Sarkozy instead".
'Divided again'
Mr de Villepin is presenting himself as a candidate above party politics, correspondents say. He recently set up a new political movement, United Republic (French: Republique solidaire), which contains members of the UMP.
"I want to reunite all the French, those on the left, those on the right, and those in the centre," he told the TF1 channel.
"I intend to defend a certain idea of France," Mr de Villepin.
His words evoked a famous phrase of General de Gaulle, our correspondent says.
The former prime minister said he was "concerned" to see France "humiliated by the law of markets which encroaches further and further in austerity".
This was a clear reference to the deal in Europe just masterminded by Mr Sarkozy and German Chancellor Angela Merkel in order to save the euro, our correspondent says.
Describing Mr de Villepin as a "man on his own without financial means or a political movement", Ms Morano said she hoped he would not "make the mistake of [causing] a division in 2012".
She said he belonged to the "UMP family" and should stand in the French parliamentary election - which follows the presidential poll - instead.
A Socialist senator, Andre Vallini, said: "I don't think it's good news for us but it's bad news for Mr Sarkozy. The right is a bit more divided again."
Troubled career
Dominique Marie Francois Rene Galouzeau de Villepin, 58, was a protege of Mr Sarkozy's predecessor as president, Jacques Chirac.
As foreign minister in February 2003, Mr de Villepin opposed the invasion of Iraq at the United Nations.
As prime minister between May 2005 and May 2007, he saw his plans for labour reforms scrapped in the face of public protests and strikes.
He was later involved in a long and bitter legal battle centring on allegations that he had tried to smear Mr Sarkozy in the run-up to the 2007 presidential election through the Clearstream affair.
A French appeals court cleared him of complicity in September.
One French tweeter, Aure Lianna, quipped on Sunday: "At least it's certain he's not standing in order to negotiate a ministerial post from... Nicolas Sarkozy."
The new corruption case in which Mr de Villepin has been named relates to an embezzlement case against his friend Regis Bulot, former head of Relais & Chateaux, a French-based association of exclusive hotels and gourmet restaurants.
"This case does not concern me," Mr de Villepin told TF1 on Sunday. "One may have a friend, friends, and not be implicated in their business dealings."