German interior ministers seek ban on far-right NPD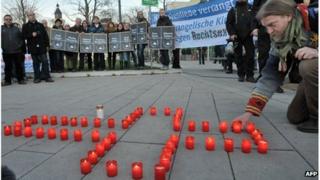 Germany's state and federal interior ministers have agreed to make a second legal attempt at banning the far-right National Party of Germany (NPD).
It follows news of the murders of 10 people, most of them ethnic Turks, allegedly by a neo-Nazi cell.
A ban on the NPD was rejected by the federal constitutional court in 2003 for legal reasons.
The interior ministers, meeting in Wiesbaden, agreed to set up a working group to put forward a new case.
The group of ministers would not themselves be responsible for making an application to the court, that is the responsibility of parliament or the federal government.
Hessen's interior minister, Boris Rhein, told the Sueddeutsche Zeitung that the NPD was "inhuman, anti-democratic and anti-Semitic". A ban would have to prepared carefully, he added.
A neo-Nazi group based in eastern Germany allegedly killed eight Turkish and one Greek immigrant between 2000 and 2006, as well as a German policewoman in 2007.
But the existence of the group only came to light last month when two of its members died in an apparent joint suicide and the third handed herself in to authorities.
One of the people subsequently arrested on suspicion of assisting the group is a former NPD official.
The far-right party does not have widespread support across Germany but does have representatives in the parliaments of two states in the east.
An attempt to ban the party failed in 2003 because the case had relied on evidence from paid informers within the organisation.