Kremlin red faces over Medvedev Twitter malfunction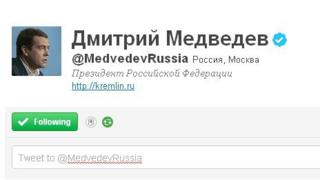 The Kremlin has blamed a member of staff for an obscene message sent from Russian President Dmitry Medvedev's official Twitter account.
Adding to the embarrassment, the retweet appeared to mock jailed election protest leader Alexei Navalny.
Russian bloggers delighted in forwarding the message, circulating screenshots after it was deleted from Mr Medvedev's account.
The Russian president prides himself in his Twitter following, now 741,000.
Twitter and other social media have been used extensively by Russian opposition activists seeking to uncover electoral fraud and organise protests.
'An inappropriate retweet'
The offending message was posted on the account of Konstantin Rykov, an MP from the ruling United Russia party, on Tuesday night.
It roughly translated as: "Today it became obvious that if somebody writes the phrase 'party of swindlers and thieves' on a blog, he is a stupid [obscenity] sheep."
Mr Navalny, jailed for 15 days after attending a protest rally in Moscow on Monday, uses the term "party of swindlers and thieves" to refer to United Russia on his widely read blogs (following on Twitter: 128,000).
The message was then retweeted from Mr Medvedev's Russian-language account (he has a separate, smaller Twitter account in English) and quickly intercepted by Russian bloggers.
Following its deletion, the Kremlin released a curt statement: "Last night an inappropriate retweet appeared on Dmitry Medvedev's Twitter account.
"During a planned change of password, a member of staff responsible for the account's technical support carried out an unacceptable intervention into the @MedvedevRussia account. The guilty will be punished."
But by then the retweet had been intercepted by bloggers.
"It seems to me that Rykov just stupidly forgot to sign out as Medvedev when he retweeted," wrote one blogger, Varlamov (following: 53,000).
Another, Korobkov (following: 23,000), quipped: "Last night during a technical change of password, the red button got pushed, nuclear warhead, wipe America off the map, the guilty will be punished."
Mr Rykov has justified his use of the obscene expression by releasing a video clip in which Mr Navalny appears to use it himself in a moment of anger.