Eurozone: France and Germany urge common taxes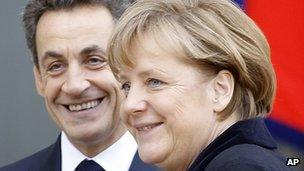 The leaders of France and Germany have called jointly for eurozone countries to have common corporation and financial transaction taxes.
The tax policy would apply initially to the 17-member eurozone. France has long complained about Ireland's low corporation tax rate of 12.5%.
The proposal came in a letter to European Council President Herman Van Rompuy, on the eve of a key EU summit.
Both countries want changes to the EU treaties to enforce budget discipline.
The push for EU tax harmonisation is highly controversial. The UK especially has for years resisted moves towards tax harmonisation in the 27-nation bloc.
"We must strengthen growth through competitiveness and convergence of the economic policies of eurozone members at least," said the letter from French President Nicolas Sarkozy and German Chancellor Angela Merkel.
It called for "a new common legal framework fully compatible with the internal market", covering:
financial regulation;
the labour market;
convergence and harmonisation of the corporation tax base and introduction of a financial transaction tax;
policies that support growth and a better use of European funds within the eurozone.
UK Prime Minister David Cameron said on Wednesday that he would seek safeguards for London's powerful financial sector at Friday's summit in Brussels.
Crisis jargon buster
Use the dropdown for easy-to-understand explanations of key financial terms:
AAA-rating
The best credit rating that can be given to a borrower's debts, indicating that the risk of borrowing defaulting is minuscule.
"The more eurozone countries ask for, the more we will ask for in return," he said.
Mr Cameron argues that a financial transaction tax would work only if adopted globally.
The BBC's Chris Morris, in Brussels, says positions appear to be hardening.
A senior German official told the BBC he was more pessimistic than he had been a week ago. Some countries still did not understand just how serious the situation was, he said.
He dismissed as a "trick" talk of introducing a new fiscal agreement for the eurozone within existing treaties.
The Merkel-Sarkozy letter called for "a renewed contract between the euro area member states".
"The current crisis has clearly exposed the deficiencies in the construction of EMU [European Monetary Union]," it said.
"Alongside the single currency, a strong economic pillar is indispensable, building on enhanced governance to foster fiscal discipline as well as stronger growth and enhanced competitiveness."
But an EU commissioner publicly derided the idea that sanctions alone could compel euro member states to abide by the rules.
"Automatic sanctions are a joke. Fiscal union needs collective, democratic decision-making that can respond to challenges & manage agg. [aggregate] demand," tweeted EU social affairs commissioner Laszlo Andor.
He told the BBC that smaller EU states were disgruntled at the dominance of France and Germany in the decision-making process.
"Certainly very often when we speak with other member states, other than these two, yes you hear a certain disappointment and or even bitterness about how certain deals or bargains are handed out without the official meetings... and other countries might be taken for granted," he told the BBC's World Tonight programme.
"Of course it's very important, more important than ever, that leaders of Germany and France agree... But I think it's also important to have a very inclusive debate and look at all the options the European Commission has put forward," Mr Andor said.