Irish budget aim 'to create jobs' says Noonan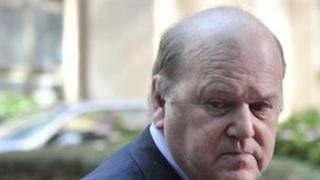 The primary focus of Ireland's fifth austerity budget since 2009 is to create jobs, the Irish finance minister has said.
Michael Noonan was unveiling the final tax reforms to bring in 1bn euros (£850m) revenue.
The plans include a 2% VAT hike to 23%. Mr Noonan told the Irish government on Tuesday that the economy was expected to grow by 1.3% next year.
The government is trying to repair a decade of disastrous policy, he said.
"The people of Ireland have paid a very high price for this mismanagement of the economy," Mr Noonan said.
"Personal wealth has been destroyed, thousands of people are sinking into poverty, emigration has returned and unemployment is far too high.
"The task of this government is to regain control over Ireland's fiscal and economic policies, to grow the economy again and to get people back to work."
Mr Noonan said he was bringing in a range of measures to boost smaller firms including tax credits on the first 100,000 euros (£85,777) spent on research and development.
A corporation tax exemption for new start-up companies has been extended for three years to 2014. This would help kick start the domestic economy, which will be the "real engine" for job creation, he said.
There will also be incentives outlined in the Finance Bill for the international financial services industry in Ireland. Mr Noonan said there would also be significant reductions in the rate of stamp duty for the transfer of commercial property, including farms, to encourage the transfer of family agricultural businesses on to the next generation.
One of the most significant tax changes in the latest Irish budget will be to ease the burden of the Universal Social Charge, applied to the earnings of virtually all workers.
The threshold at which the 4% levy kicks in is to be raised from 4,004 euros (£3,433) to 10,036 euros (£8,604) from 1 January.
Carbon tax will increase from 15 to 20 euros (£12-£17) per tonne, hitting motor fuels, coal and home heating fuels.
In an attempt to add some optimism to the crippled property market, a new capital gains tax incentive has been drawn up. The gains on any property purchased between midnight on Tuesday and the end of 2013 and held for at least seven years will be exempt from the tax.
For first-time buyers who bought homes during the property boom, mortgage interest relief will be increased to 30%. The relief will be phased out after 2012, to be fully abolished by 2018.
For first-time buyers purchasing next year, a mortgage interest relief of 25% will apply, while non-first-time buyers can benefit from a 15% relief rate.
On drink and cigarettes, Mr Noonan said the duty on tobacco would increase by 25% from midnight on Tuesday. Alcohol is not being hit, but the 2% VAT will apply.
Mr Noonan said a key plank of the government's Budget 2012 was to avoid touching people's earnings and instead target indirect or discretionary taxes.
"The Programme for Government states that there will be no increase in income tax. This is the key issue for this budget. I want to make clear that there will be no increase in income tax," he said.
"People's wages and salary in January will be the same as wages and salary in December."
Mr Noonan said he would also:
Increase the current rate of capital acquisitions tax from 25% to 30%.
Increase capital gains tax from 25% to 30%.
Reduce the Group A tax-free threshold for capital acquisitions tax from 332,084 euros (£284,940) to 250,000 euros (£214,536).
Increase deposit interest retention tax from 27% to 30%.
A waiver on the 100 euros (£86) household charge will apply to those on mortgage interest supplement and for those living in unfinished housing estates, or so-called ghost estates.
As a result of people buying cleaner and cheaper cars, Mr Noonan said he was looking to overhaul VRT and motor tax next year because of dwindling tax revenues.
In the meantime, Environment Minister Phil Hogan is to outline a motor tax hike from the start of the New Year, aimed at raising 47m euros (£40.3m).
The two-day budget - aimed at saving 3.8bn euros - is the first from the new Fine Gael/Labour coalition government in Dublin.