Belgium swears in new government headed by Elio Di Rupo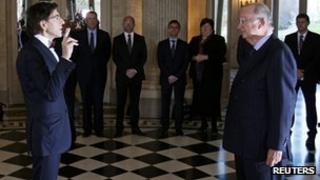 Belgium has sworn in a new government, ending a record-breaking 541 days of political deadlock.
New Prime Minister Elio Di Rupo was sworn in by King Albert II at the royal palace along with his 12 cabinet ministers and six secretaries of state.
Mr Di Rupo, a French-speaking Socialist, took the oath of office in French, Dutch and German - reflecting language sensitivities in the country.
The Europe crisis is thought to have spurred politicians to find a solution.
Belgium had been run by a caretaker administration since the last government resigned in April 2010.
The delay in forming a new government revolved around arguments over budget and immigration issues, but originally started with a row over the distribution of voting rights between the French-speaking and Flemish communities, the BBC's Matt Cole in Brussels reports.
Amusement and anger
Belgium now holds the modern-day record for the country which has gone the longest without a government - beating previous title holder Cambodia by 182 days.
The situation had been as much a source of amusement as anger among Belgians, our correspondent says.
Demonstrations calling on politicians to resolve the crisis had been held, but there had also been more light-hearted protests including a group who refused to shave their beards until an administration was formed, he adds.
Politicians have been under pressure from financial markets and ratings agencies to create an effective government capable of carrying out structural reforms and reducing debt.
Last month, ratings agency Standard & Poor's downgraded Belgium's credit rating to AA from AA+, which could make it more expensive for Belgium to borrow in future.
This is thought to have been the catalyst for the six parties now in coalition to finally agree a new administration headed by Mr Di Rupo.
Mr Di Rupo, 60, is Belgium's first French-speaking prime minister in three decades and the first Socialist to take the premiership in Belgium since 1974.
Didier Reynders, who held the role of finance minister in the caretaker administration, will swap portfolios with the temporary Foreign Minister Steven Vanackere, said the palace statement.