Gibraltar Moroccans in citizenship battle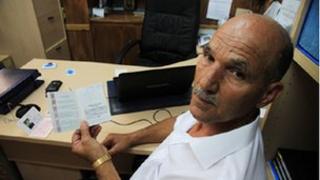 The people of Gibraltar go to the polls on Thursday to elect a new 17-seat parliament, but many resident Moroccans who have lived there for decades will not be able to take part.
The BBC's Sylvia Smith examines why members of Gibraltar's Moroccan community feel like second-class citizens.
As Ali Douissi takes out his key to unlock his office he is approached by Mohamed Achdadd, a man in his late 50s.
Ali invites him in, knowing only too well that he is going to be asked to do the impossible.
They enter the small offices of the Moroccan Community Association in Gibraltar, to look through the restrictions in Mohamed's passport which prevent him from travelling back to Morocco for an extended period to help with a family problem.
"I've lived and worked on Gibraltar for nearly forty years, but I still don't have citizenship," Mohamed complains.
"I pay my taxes and social security, but I am treated like a second-class citizen."
Mohamed is one of 5,000 Moroccans who were shipped over to Gibraltar as migrant workers when the former Spanish dictator, Gen Francisco Franco, closed the frontier with the small territory in 1969.
Spaniards were prevented from working there and Moroccans took their place.
They got jobs working in construction, service industries and maintaining the military docks for this self-governing British overseas territory. And many have stayed ever since.
"We feel Gibraltarian," confirms Ali Douissi, general secretary of the Moroccan Community Association.
"But with the election coming up we're really having our faces rubbed in it. We can't even vote."
Trapped
Although numbers have dwindled to approximately 1,200 today, they are still a vocal group contrasting their lack of rights with those who live in the UK or France or Spain.
"If you have lived and worked in the European Union for more than five years, you have the right to apply to become a citizen," explains Zohra Victor who was born in Morocco.
"I have all the benefits of being a British citizen, because I was married to a British man. But I feel for my fellow Moroccans who can't even cross the border into Spain."
Her concerns are shared by Graham Watson, the Member of the European Parliament who represents South-West England and Gibraltar.
"We need a swift resolution to this issue, not just for Moroccans but for all non-EU migrants entering Gibraltar," he told the BBC.
"Delay from the Chief Minister - who has still not replied to a letter I wrote him months ago - is simply no good."
The BBC was unable to reach the Chief Minister, Peter Caruana, for comment.
It was the reopening of the border between Spain and Gibraltar in 1985 - just over a year before Spain joined the European Union - that allowed in workers from other countries.
"We helped when Gibraltar was under siege," Ali Douissi says.
"We took on jobs that the Gibraltarians didn't want to do. Now even our old jobs have gone to other nationalities - especially the Spanish."
Every morning there is a mass migration of Spaniards, many from the frontier town of La Linea into Gibraltar.
This freedom of movement rankles with the Moroccans, who have to wait for a weekend ferry if they want to go and see their families. Morocco is only 21km (13 miles) away.
"I have to leave on a Friday night," says Mohamed Achdadd.
"But often the ferry doesn't come until the early hours of the morning. And then I have to take the same ferry back to Gibraltar on Sunday night. It is not right."
Citizenship
The government of Gibraltar says the number of Moroccans granted citizenship has increased over the years and that Moroccans are treated in the same way as other non-EU nationals.
But that, according to the Moroccans on Gibraltar, is to miss the point.
"If you look around you would think we are in Britain," says Ali Douissi.
"You see the red telephone boxes and bobbies in helmets, and Gibraltarians love being British. But Gibraltar does what it wants. We are only asking for citizenship the same as we would have back in the UK."
In the fish and chip shop in the main square, Hassan is frying up cod.
He says that Gibraltar is a multicultural society with Orthodox Jews and Indians living and working alongside the Gibraltarians.
But according to Hassan, the problem lies not in religious or racial discrimination, but with the way the law is applied.
"We are second-class in law," Hassan complains. "If you go to the border with friends, it's embarrassing not to be able to cross over into Spain."
He says the very long delay in dealing with applications is compounded by ever-shifting goalposts.
"Now they are saying we need to be able to speak good English," Hassan says.
"But everyone here speaks Spanish. It's just a new way of refusing to give us our rights."
Although Moroccans refer to their treatment under the socialist Labour party and its former chief minister Joe Bossano as "the black days", they are unanimous that under Peter Caruana's Social Democrats they are still denied their rights.
"I don't know what the results of the election will be," says Ali Douissi.
"But whoever wins I am really hoping that this injustice will end and we Moroccans will be given our rights."