Russia election: OSCE sees 'numerous violations'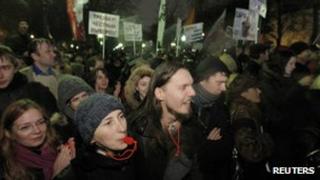 International observers have cited numerous violations in Sunday's parliamentary elections in Russia.
The OSCE said the polls were slanted in favour of pro-Kremlin party United Russia, noting apparent manipulations such as the stuffing of ballot boxes.
But President Dmitry Medvedev said the vote was fair, honest and democratic.
On Monday night, at least 2,000 people protested in central Moscow against PM Vladimir Putin, and demanded honest elections.
The election saw a sharp drop in support for United Russia, ahead of Mr Putin's bid to return to the presidency next March.
With nearly all the votes counted, electoral officials said the party had just under 50%, down from 64% in 2007.
United Russia lost 77 seats, in a vote which is being seen as a popularity test for Mr Putin.
'Like a game'
Reading a communique, an official from the Organisation for Security and Co-operation in Europe (OSCE) said the election had in general been "well organised" but there were severe problems with the counting process.
"The contest was also slanted in favour of the ruling party, the election administration lacked independence, most media were partial and state authorities interfered unduly at different levels," said Petros Efthymiou.
Another observer, Heidi Tagliavini, said the elections had suffered because several opposition parties were barred from taking part.
"To me, this election was like a game in which only some players are allowed to compete," she said.
The OSCE report prompted US Secretary of State Hillary Clinton to express "serious concerns" about the conduct of the election.
Opposition parties have also complained of violations.
The Communist Party said it was preparing to challenge the "absolutely illegitimate" result in court, the RIA news agency said.
Russia's only independent monitoring group, Golos, says it has logged 5,300 complaints alleging violations.
Protests
Several thousand people protested in central Moscow on Monday calling for an end to Prime Minister Vladimir Putin's rule.
They denounced the vote as shameful, and shouted "Russia without Putin!"
Correspondents say it appeared to be one of the biggest opposition demonstrations in central Moscow in years.
Several dozen protesters tried to march towards the Kremlin, but at least 30 were detained by riot police and bundled into buses.
About 100 opposition protesters were detained in Russia's second city, St Petersburg, after holding an unauthorised rally on the main avenue, Nevsky Prospekt.
Electoral Commission head Vladimir Churov said United Russia should have a slim majority, with 238 seats out of 450.
This would mean the party losing its current two-thirds majority which had allowed it to change the constitution unchallenged.
Mr Churov said the Communist Party was in second place with 19.2% of the vote, giving it 92 seats.
A Just Russia was in third place with 13.2% and 64 seats, and the nationalist Liberal Democratic Party of Russia (LDPR) had 11.7% and 56, he added.
The BBC's Steve Rosenberg, in Moscow, says that, if confirmed, the result will be a significant embarrassment to Mr Putin, three months before he is scheduled to run again for the Russian presidency.
But President Medvedev, who headed the United Russia party list, said that despite the slump in its vote, he was looking forward to working with the new parliament.
"A tragedy has not taken place," he said.
"On the contrary, in my view, everything is quite decent and respectable.
"I for one am glad that we shall have a merrier parliament because we understand that truth can emerge only from a debate."
Mr Putin served as president from 2000 to 2008 but was prohibited by the constitution from running for a third consecutive term.