Irish Republic's budget to be revealed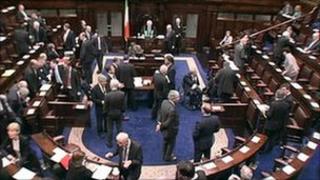 It is just over a year since the Irish Republic accepted financial assistance from the EU/IMF, entering into what has become known as 'the bailout'.
One year on and a new government is about to unveil its first budget in two stages.
The Irish Republic's Minister for Public Expenditure and Reform Brendan Howlin will announce cuts to public spending on Monday.
On Tuesday, Finance Minister Michael Noonan will reveal new tax measures.
But with Ireland's budgetary targets set by its bailout masters, Fionann Sheahan, the Irish Independent's political editor, said the government is constrained in what it can do.
"What we're seeing is the decision making process is going between Dublin, Frankfurt and Washington, and in this case we've seen even the German parliament has its say before the Irish Dail and Seanad, so that has been a reality check for them that we've lost our sovereignty as a result of the bailout," he said.
"The old days of the Finance Minister wandering in and delivering his budget are gone."
While some of the bad news has already been broken - the public has known since the summer about a new €100 property tax - other measures have been leaking out.
The German Bundestag (Parliament) last month learned of a planned 2% VAT increase before Irish parliamentarians, causing a great deal of anger and concern, particularly amongst retailers worried about a new flight across the border to shop.
Retailers hit
Donal Swinney from Rathlin Knitwear in Kilcar in County Donegal said the increase is crazy.
"It was tried before, a half percent, and it had a massive effect on traffic going from the south to the north to buy - 2% is going to hit retailers big time but of course it will go on to the consumers as well," he said.
Other measures being talked of in recent weeks include cuts to child benefit, new medical charges, closures to hospitals and rises in motor and carbon taxes.
Conor Faughan, AA's director of policy, said the motorist is going to have a torrid time.
"The 2% VAT increase will add 2.4c per litre to petrol and diesel prices, carbon tax will go up and that could be another 1 or 2 cents onto a litre of fuel - that will really hit people hard, along with an increase in car tax," he said.
He feels the government is making a strategic mistake and eroding one of the very few competitive advantages the Republic has over Northern Ireland.
"We used to get a dividend with motorists crossing the border to buy fuel in the Republic, these government policies have rubbed out that difference and there's no doubt the exchequer will lose as a result of this," he added.
But with EU/IMF targets set in stone, the exchequer's deficit must be reduced to 8.6% this year - working towards a deficit of 3% by 2015.
Unfortunately for hard-pressed families and businesses, it seems the bad news being delivered on Monday and Tuesday will not end for some time yet.