Shock win in Slovenia election, early results show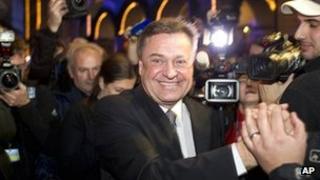 A new centre-left party headed by the mayor of Slovenia's capital, Ljubljana, appears to have won a surprise victory in parliamentary elections, exit polls and partial official results suggest.
Zoran Jankovic's Positive Slovenia has won 29.5% of the vote against 25.9% for ex-PM Janez Jansa, favourite to win.
Prime Minister Borut Pahor's party came third with just 10.3% of the votes.
His government lost a confidence vote in September over pension reforms prompting early polls.
It seems Mr Pahor is set to follow his counterparts in Greece, Italy, Spain, Ireland and Portugal as the latest eurozone leader to be ousted this year as a result of the debt crisis, says the BBC's Europe analyst Sam Wilson.
Mr Jankovic, 58, the former head of Slovenia's main supermarket chain Mercator, has been the capital's mayor since 2006 and was re-elected with 65% of the vote in 2010.
"The results show that citizens want a different state. They had Jansa and Pahor, now they want a democratic but efficient state," a jubilant Mr Jankovic told journalists at his campaign headquarters on Sunday night.
Mr Jansa, the leader of the conservative Slovenia Democratic Party (SDS), has conceded defeat and congratulated Mr Jankovic, reports say.
Slovenia's economy was booming under Mr Jansa's previous term as prime minister, from 2004-08, but recent years have seen government debt and deficit soar and its borrowing rates hit the 7% danger level.
The country's export-reliant economy has been hit hard by the global downturn.
Opinion polls had suggested Mr Jansa's SDS was the clear favourite over Mr Pahor's Social Democrats.