Croatia's opposition bloc on course for election win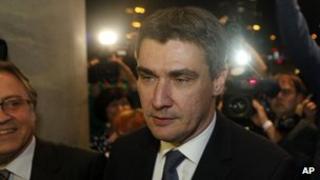 The centre-left opposition is on course to win Croatia's parliamentary elections, partial results show.
With 70% of votes counted, the Kukuriku coalition is predicted to win 78 seats in the 151-seat parliament.
The ruling conservative HDZ party is likely to win only 48 seats. It entered the poll beset by corruption scandals and a poor economy.
"We will not let you down, I promise", said opposition leader Zoran Milanovic, as his victory seemed certain.
"We may make mistakes, but we must not stand still," he told his supporters. "There will be no excuses."
The next government is expected to lead Croatia into the EU in 2013.
The next government will have to push through a tough budget to avoid a downgrade in Croatia's credit rating, tackle rising unemployment and pursue the anti-corruption fight, says the BBC's Balkans correspondent Mark Lowen.
The Kukuriku alliance, led by Mr Milanovic's Social Democrats, has promised austerity measures and steps to revive industry and attract foreign investment.
Outgoing Prime Minister Jadranka Kosor has refused to approach the IMF for a loan, but Mr Milanovic says he would not rule it out as a "last resort".
The economy is struggling out of recession, with growth in 2011 estimated at 0.5%-1% as the European sovereign debt crisis undermines its recovery.
Although the HDZ government has instigated an anti-corruption drive that has put party leader and former Prime Minister Ivo Sanader in court, a number of other officials have been implicated.
As the results came in, Mr Kosor said the "HDZ remains firmly on its feet," adding the party would now "serve Croatians in the opposition as well".
The HDZ has been in government for 16 of the 20 years since Croatia became independent during the collapse of the former Yugoslavia in 1991.
Croatia is due to sign a European Union accession treaty next week that will allow it to formally join in 2013.