Albania buries royal claimant Leka Zogu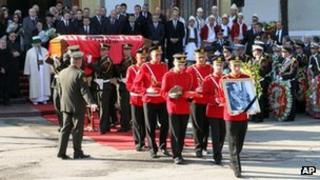 The self-proclaimed heir to the throne of Albania, Leka Zogu, has been buried in Tirana in an official ceremony.
Though a republic, Albania declared Saturday a day of mourning, with flags flown at half-mast and the ceremony broadcast live on national TV.
Zogu, 72, was the son of Albanian King Ahmet Zogu, who ruled from 1928 until Italy's invasion in 1939.
Albania's then-communist rulers abolished the monarchy in 1946 but Zogu maintained his claim to the throne.
He died in Tirana on Wednesday after being admitted to a hospital with heart and lung trouble.
Prime Minister Sali Berisha and President Bamir Topi were joined for the funeral by other political leaders, religious representatives and the president of neighbouring Kosovo, Atifete Jahjaga.
Tirana Mayor Lulezim Basha said "the whole Albanian royal family has made a great contribution to Albania and Kosovo and merits the honour and respect of Albanians".
Zogu was only days old when his father was forced to leave the country after Italy invaded in 1939.
He was crowned King Leka I by the Albanian exile community in Paris in 1961.
Zogu returned to Albania in 1993 after the fall of communism but was not allowed to stay. He came back a second time in 1997 but fled when violence broke out after a disputed referendum on restoring the monarchy.
He and his Australian wife, Susan Cullen-Ward, returned to Albania to live in 2002, where she died two years later.
Zogu is survived by his son, also named Leka, who is a counsellor at the Albanian foreign ministry.