Serbia and Kosovo reach border management agreement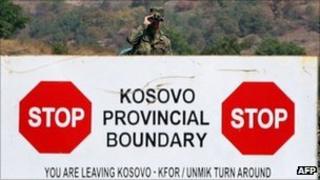 The European Union says Kosovo and Serbia have agreed to jointly manage their border crossings, one of the most contentious issues between them.
The agreement was reached at EU-mediated talks and removes one block to eventual EU membership for Serbia.
Serbia has not recognised Kosovo's 2008 declaration of independence.
Clashes in the region recently have left scores injured, including Nato peacekeepers, as the Kosovo government has attempted to control the crossings.
Fifty Nato peacekeepers were injured on Monday trying to remove roadblocks set up by ethnic Serbs opposed to the ethnic Albanian government in Pristina sending border guards to the crossings.
"The parties reached an agreement on the EU-developed concept of integrated management for crossing points," the EU said in a statement late on Friday.
"This means that the parties will gradually set up the joint, integrated, single and secure posts at all their common crossing points."
However, Serbian negotiator Borko Stefanovic said some details remained to be worked out.
"Although we have significantly got our positions close, it remains to put the dot on the i," AFP news agency quoted him as saying.
The border agreement comes a week before EU leaders are due to discuss Belgrade's EU membership bid.
Earlier on Friday, German Chancellor Angela Merkel said Serbia would not be ready for EU membership until it normalised relations with Kosovo.