Ratko Mladic Bosnia charges cut to speed ICTY trial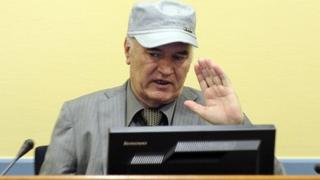 The war crimes tribunal for the former Yugoslavia is reducing the number of charges against the former commander of Bosnian Serb forces, Gen Ratko Mladic, because of fears about his health.
The tribunal accepted the prosecutor's request to cut the number of crimes in the indictment from 196 to 106.
Judge Bakone Justice Moloto said the decision was made "in the interest of a fair and expeditious trial".
Gen Mladic was arrested in Serbia in May after 16 years on the run.
He is charged with genocide at Srebrenica, where 7,500 Muslim men and boys were killed in July 1995.
He also faces charges over the 43-month siege of Sarajevo, from May 1992 to November 1995.
The judge ordered the prosecutor to file an amended indictment within two weeks.
Last month, the tribunal ordered a full medical examination for Gen Mladic, who was was admitted to hospital in October after his lawyer said he was suffering from pneumonia.
A medical expert appointed by the court is due to report back on 6 December.
In 2006, former Yugoslav President Slobodan Milosevic died in custody at the tribunal, in The Hague.
In October, the tribunal rejected a request from the prosecutor to split the indictment to allow a separate trial on the charges relating to Srebrenica.