Kremlin accused of trying to gag election monitors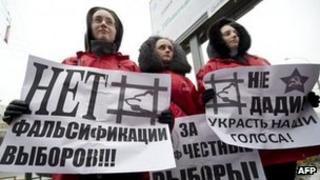 Human rights activists have accused the Russian authorities of trying to gag the country's main non-government election watchdog days before polls.
Moscow city prosecutors opened an investigation into Golos after it listed thousands of complaints about election campaigning on its website.
Golos is accused of breaking pre-election reporting restrictions.
The US-based campaign group Human Rights Watch (HRW) said Golos was the victim of a smear campaign.
"They are trying to shut it up because Golos is the only large-scale, serious organisation that is exposing election violations," Tanya Lokshina of HRW's Moscow branch told Reuters news agency.
Russia elects a new parliament on Sunday and will hold a presidential poll on 4 March, when Vladimir Putin will stand for re-election after two previous terms in the post.
The outgoing parliament, or State Duma, is dominated by his party, United Russia, with seats also held by the Communist Party, the nationalist Liberal Democrats and the social-democratic Fair Russia.
Under Russian electoral law, media broadcasting to Russian territory are not allowed to report the results of opinion polls in the five days leading to the election.
'Negative image'
Golos (which means "voice" in English) is a widely respected election watchdog funded by the EU and US. It provides training for observers and runs a website compiling complaints of voting violations.
As of Friday afternoon, it had recorded nearly 5,000 complaints related to Sunday's election, many involving United Russia.
According to the court documents, Golos is accused of having reported "election-related opinion polls and research" between Tuesday and Wednesday.
The prosecutors specify that such data includes "results of analysis of reports of violations".
Golos is accused of "effectively creating among voters a negative image of one of the parties".
Vladimir Churov, head of Russia's central election commission, was quoted by Russian media as saying this alleged bias referred to United Russia.
Russian MPs have also questioned why Golos, a foreign-funded organisation, is allowed to monitor Russian elections.
Grigory Melkonyants, deputy head of Golos, told Reuters that his organisation was being subjected to a "premeditated campaign, which started with attacks in the press, but is now making use of law enforcement agencies".
Referring to a court summons for Thursday, he added: "We are certain this is only the first summons and there will be other investigations, especially targeted at hampering us from observing [the election] on 4 December."
In a televised address on Friday, President Dmitry Medvedev insisted Russia's political parties enjoyed "free and equal competition" ahead of the election.
Without naming United Russia, he urged voters to choose "responsible politicians, who can help improve our people's living standards in practice, and who will be guided in their actions by the interests of voters and national interests".