Venice's Bridge of Sighs restored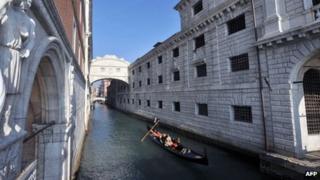 Tourists and gondoliers in Venice can enjoy the view of the Bridge of Sighs again, with the completion of a three-year restoration project.
The Italian city's famous bridge had been covered by advertising hoardings to help finance the work.
The 17th-Century bridge connects the Doge's Palace to a former prison. It is said that inmates glimpsing Venice from the bridge used to sigh in despair.
The restoration was started after a chunk of marble injured a tourist.
The decision to cover the facades with large adverts had caused controversy in Venice, which attracts millions of tourists each year.
Local legend says that couples will be assured of everlasting love if they kiss on a gondola at sunset under the bridge.
The UK university cities of Cambridge and Oxford each have their own, more recent covered bridges named after the Bridge of Sighs.